King of the castle
October 2012 Carolin Young (see below) writes: My friend Sylvain passed away this past August from lung cancer (and the poor man never smoked EVER). He sold the Pharamond the previous spring to a rival of the Flo group... First thing they did was fire the very good chef and put in more tables to dumb it down... Tragic on many, many levels... In other words, Pharamond is history.
---
Established in 1832, Pharamond is the sort of venerable establishment to which I would normally go to look rather than to eat, but there were several promising reports that when its art nouveau interior was restored, the kitchen was upgraded to match. Accordingly, I sched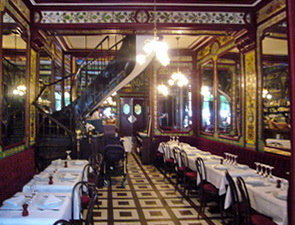 uled it for our last dinner, a retreat into hoary tradition after a week of cutting-edge bistronomy. In the event, it proved to be one of our most thoroughly satisfying meals.
Pharamond's signature dish is Tripe a la mode de Caen, which was sold from a horse-drawn cart by the restaurant's founder. Tripe is not your typical tourist's first choice, and so it's not offered as part of the menu; nevertheless it still features on the a la carte. When I ordered it, our enthusiastic young waiter proceeded to tell me how it figured in the restaurant's history and concluded, "Before I came here, I didn't like it!"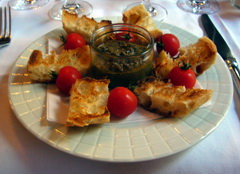 Mary ordered the menu, starting with the tapenade, which was so splendid that she made notes: Every little thing was perfect – spot on. "Attention to detail" was the phrase that came to mind – they exemplify it par excellence! E.g. toasts – thick slices of holey baguette, 1st class bread, well crisped and brown on the outside, soft and moist on the inside; with the sweetest cherry tomatoes imaginable; and perfect tapenade; well-flavoured but not over strong and generous with the anchovi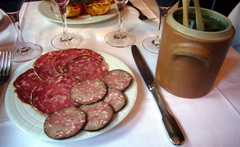 es.
My own choice of starter was two types of Saucisson sec, including an andouille which had all the flavour that had been lacking in what I'd been served at Le Severo on Monday night. Accompanying them on the side was a jar of the best tiny gherkins I'd ever eaten; I could have polished them off and gone away replete.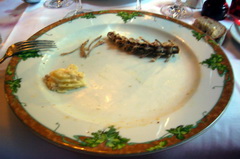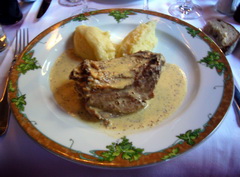 Mary's main course was the classic Râble de lapin à la moutarde purée. The mustard was finely judged and the saddle was cooked so thoroughly that every last scrap of meat came easily from the bone. Mary's empty plate says it all!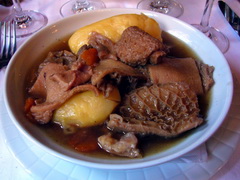 My generous bowl of tripe was as good as any I've ever had. It had been thoroughly cooked into submission in cider and Calvados – one could almost use the adjective "delicate". It was even better than the enormous pot I had on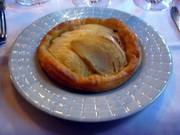 ce polished off at Chez Denise, thus winning a round of applause from the waiters.
Mary's small apple pie was cooked to order. It wasn't as good as what she makes herself – but that would be an impossible standard to reach. I would happily have finished it for her.

Pharamond 24 rue de la Grande Truanderie, 1st, Tel: 01 40 28 03 00 Mº Halles
©2009 John Whiting
---
August 2009 Carolin Young, food historian and Chair, Oxford Symposium, responded to this review in equally glowing words; Pharamond is one of the venues at which she regularly creates historically inspired banquets and events.
The owner, Sylvain LeBarbier, was for many years (17, I think) the sommelier at L'Ami Louis--before purchasing Le Pharamond about 3 years ago. As you can well imagine, the cellar is wonderful. He also has a very L'Ami Louis approach to food. It is old-fashioned stuff--made from ingredients of the very highest quality and cooked with care. I take a group of Irish cooking school students there for a tasting banquet every spring--because this is a place where you can discover why things became classics in the first place and what they are supposed to taste like.

The Tripe has always been on the menu (and all of the owners have been Norman--although Sylvain is no relation to the original family that owned it for over a century and it changed hands a few times before he purchased it). However, I'd wager that the escargots are the best in town. They do an amazing bouchée à la reine, with sweetbreads, as the dish is supposed to have. I have also eaten a piece of veal and a roasted leg of milk-fed lamb that are the best I've ever eaten in my life. In both cases, I know that Sylvain knows the farmer who raised the animals, knew when they were born, what they ate, etc. and they were delivered directly from the farm to the restaurant.

Pharamond has become a haunt of 'serious eaters'; Sylvain even has a special collection of cigars for the really serious ones. If Curnonsky could come back from the dead, I'm sure he'd be there.

Drawing by Charles Foster-Hall
Thank you, Carolin! It's reassuring to have our judgement so authoritatively confirmed.