What happened?
Le Bistro Paul Bert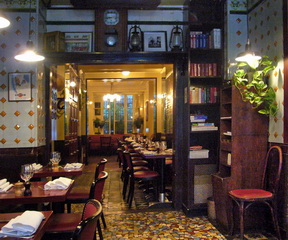 The success of Le Bistro Paul Bert, a Pudlo Special Favorite, has helped to fill this street with up-and-coming eating places. It has a homey ambiance, domestically decorated, and the ardoise leans towards familiar classics. Lots of people find this combination agreeable – by the time I left on a Tuesday evening, both major dining rooms were comfortably full.
My chosen starter was the Hure de cochon, potted pig's head in jelly. It was properly prepared, tasty, and came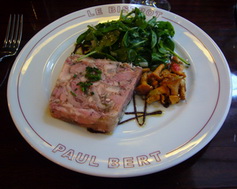 with a side portion of tiny delicious girolles confit and the omnipresent garnish of rocket leaves. (It's a good thing that I like them; they're impossible to avoid these days. They don't bruise easily, they're easy to serve, they have a strong flavour so that n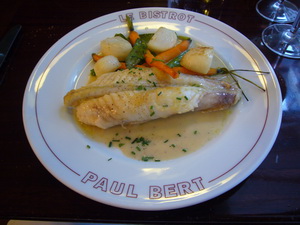 ot many are required, and they have a long fridge life.)
My luck, alas, didn't hold out. My scrag end of lotte tail on the bone was barely cooked, came with a thin nondescript jus and a small portion of O.K. vegetables, and was served up on a stone cold plate – the only hot course this week for which the kitchen had not even made a token effort to keep it warm.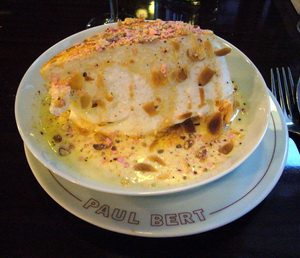 The management semi-redeemed itself with perhaps the best Ile flotante I've ever eaten: a soft light meringue that could have floated to the ceiling, bits of crunchy caramel on top,and barely resting on a perfectly judged, not-too-sweet vanilla sauce.
Restaurateur Bertrand Auboyneau, according to Pudlo, has escaped from both the law and the stock exchange to set up his highly successful gastronomic enterprise. My own experience was of a noteworthy flanking of outer courses surrounding, at the core, a total failure. Does this have the makings of an economic parable?

Le Bistro Paul Bert 16 rue de Paul Bert, 1lth, Tel: 01 43 72 24 01 Mº Charonne
©2009 John Whiting