On the tip
of my tongue . . .
Les Papilles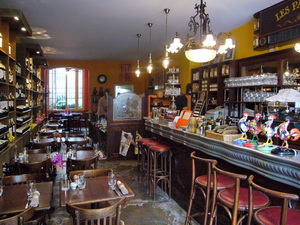 Les Papilles is an up-market deli/wine bar where you sit at tables spread out along the display racks on one side of a long narrow room, with a bar on the other. Customers may lean across you to inspect a bottle; if you're the snooty sort that's put off by such a lack of ceremony, you'll miss a Michelin Bib meal with excellent wine at a very reasonable price.
If you can accept the Chez Panisse/Henry Ford model – you can have whatever you want so long as this is it – then evening is the time to go, when their no-choice retour du marché offers starter, main course, cheese and dessert for a moderate 31 €, with any wine off their endless shelves at retail plus a 7€ corkage. This time, my tight dining schedule required that I make do with lunch, a compromise which offered an extensive carte and sent me out bursting at the seams with what would well have sufficed for an ample dinner. (Thank Bacchus I don't do this for a living – I'd only be able to review bistros with double doors.)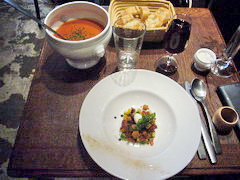 My gaspaccio [right], served in two bowls, seemed a bit precious, but there was nothing precious in the flavours themselves. Rather than bread crumbs mixed into the soup, there were toasted croutons in the bowl with well-herbed vegetable cubes, the tomato soup served separately on the side to be poured over them. It was a long way from the Spanish method of using up rock-hard stale bread, but what the hell! Peasants don't eat peasant food any more – not with a fast food joint on every village street corner.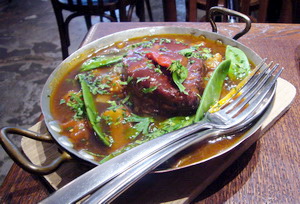 Seven-hour lamb [left] is a favourite of mine, and this was to die for – succulent fall-apart meat that you could eat with a spoon, in a luscious thick veg-laden gravy. When I'm eating such a splendid example, I happily call it my favourite food.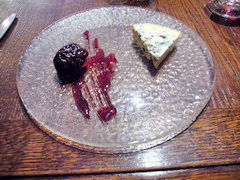 Next came an artisanal Fourme d'Ambert cheese [right] from the Auvergne, served with a poached prune and a swirl of red wine reduction. Finally, a glass of pe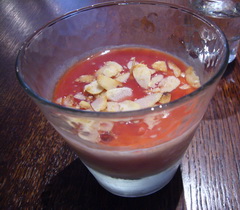 rfect panna cotta [left] topped with Reine Claude plum puree– utterly delicious!
Don't let the easy informality fool you. The diners surrounding you ar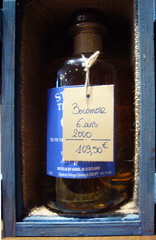 e not likely to be pinching their pennies; in a little niche beside me was a bottle of Bowmore straight malt for a modest 109.50€. If it were evening, and I had already polished off a bottle of Domaine Cosse Maisonneuve Cahors . . .
Les Papilles 30 rue Gay Lussac 5th Tel: 01 43 25 20 79 lespapilles@hotmail.fr RER Luxembourg