Our search for August eateries in Paris continued: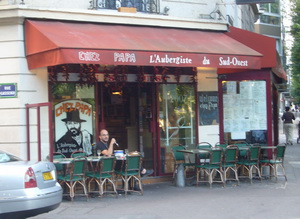 When I phoned Chez Papa for a reservation, I was told in easy English, "You don't need one; just show up before eight." According to Pudlo, this swinging establishment is "half farmhouse, half canteen". In defiance of arithmetic, they might have added, "and half party"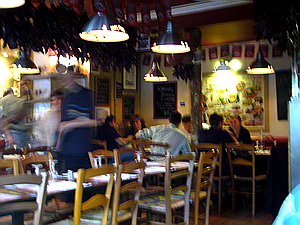 . When we arrived at seven-thirty, several tables were already whooping it up, with well-enunciated American accents making it possible to follow several conversations simultaneously. Sucking in our tummies, we squeezed into the corner place that was offered to us; a late arrival at an adjacent shindig didn't ask Frank to move, but did an expert limbo dance under the end of their long table.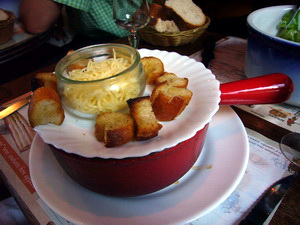 We were automatically given English cartes. Fortunately the French names of the dishes were also included; English mis-translations often make identification impossible. In this avowed stronghold of southwest cuisine, Mary and I settled on two safe bets for starters: Soupe de poissons [l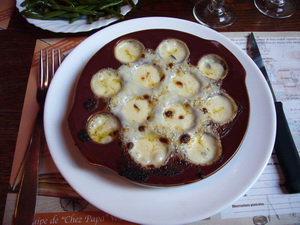 eft] and Escargot au blue de Brebies [right]. The soup arrived promisingly presented, but proved to be a small weakly-flavored puddle in the bottom of the big pot. The Gruyère was of an inferior quality and there was no rouille. My tiny escargots were lazily served up in the dish without their shells, swimming in tasteless cheese.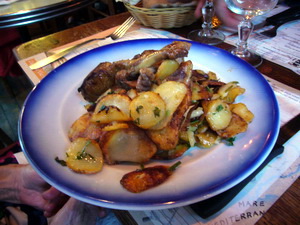 We fared much better with our main courses. Mary's Magret de canard [left] was cooked to perfection and my pieds et paquet [right] were an old provençal recipe which co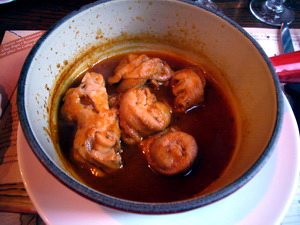 nsists of stuffed sheep's tripe tied up in little packets and simmered in white wine and stock with bacon and sheep's trotters. It is thought to have originated in the Restaurant de la Pomme on the outskirts of Marseilles. As served up by Papa, it was superb; the only other time I've encountered it on a menu was in the Arbutus in London.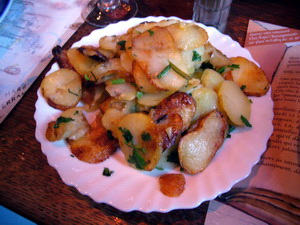 The meal's crowning glory was the potatoes which accompanied both our main courses. With crispy shells and creamy interiors, the slices sang with the music of the duck fat in which they had been lon

g

and thoroughly fried. If the meal had consisted of nothing but an enormous pot of these succulent spuds, we would have paid our bill happily and rolled back to our beds.
Chez Papa 6, rue Gassendi, 14th Arr, Tel 01 43 22 41 19, Mº Denfert-Rochereau
©2008 John Whiting
Back to the beginning of this review
---