Waxing porcine at L'Ourcine
Not only is all of Paris talking about L'Ourcine, but they're even talking about the fact that they're talking about it. In London I would take this as a bad sign, concluding that they must be serving up edible Turner Prize winners of the "Do I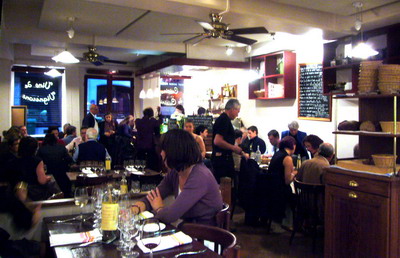 or did I eat this?" variety.
But this is Paris, where fame is not necessarily a proof of tortured gastronomic excess. And there was promise of excellence in the fact that the chef, Sylvain Daniere, was one of Yves Camdeborde's protégés fr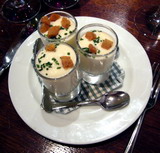 om La Régalade.
Frothy amuses bouches in shot glasses topped with tiny croutons arrived at the table soon after we had ordered, thus announcing from the offset that this was not to be a simple old-fashioned bistro meal. In fact, the individual dishes would prove to be very well thought out, with original touches that did not detract from the essential flavor and appearance of the ingredients.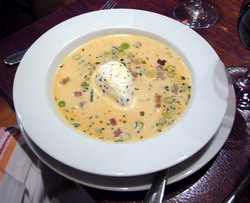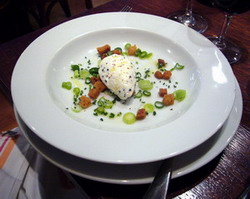 Mary's shellfish bisque was very interestingly constructed. A whipped frothy mousseline had been spooned into a wide soup bowl and tiny croutons, sliced spring onion and lumpfish caviar distributed around the bottom. The soup was then carefully ladled over and around them. The result was visually attractive and utterly delicious, with the delicate shellfish flavor unmasked by the other ingredients.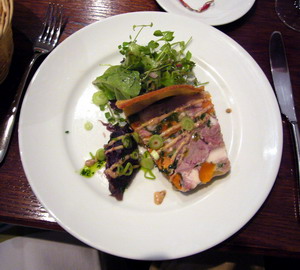 For a starter I chose head cheese, as I often do in Paris to make up for its absence from the English gastronomic scene.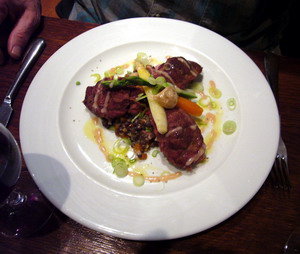 It was very attractively set out with small salad leaves and decorative stripes of coulis. Full of flavor, not oversalted and just vinegary enough to give it the proper edge.
Frank's main course [right] was an extraordinarily delicate cheek of sucking pig. (Since this text is not set in Olde Engli∫h, there is no salaciously suggestive long s.)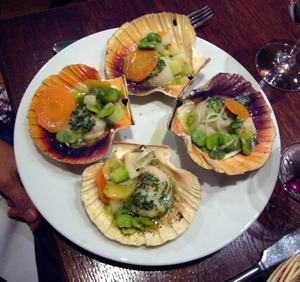 Mary's scallops—Noix de Saint Jacques rotie dans sa Coquille—were attached to the shell, a promise of utter freshness. There were four on the plate, each with its coral, a thin slice of carrot, baby broad beans, asparagus, sliced green onions and turnip. Delicious, and as fresh as they looked and smelled.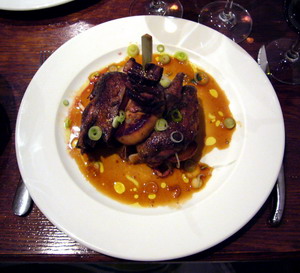 I went extravagantly for a dish that carried a 12€ surcharge, Pigeon rôti au foie gras de canard du gers. It was luxurious beyond belief— perfectly roasted pigeon split in half and sandwiching a generous slab of fresh duck liver from Gers, near Auch in the Southwest. It was surmounted with a little skewer of roasted onion and swimming in ambrosial juices. One of the most indulgent dishes I shall ever experience. If I were to be executed and granted a last meal, this would almost be worth dying for.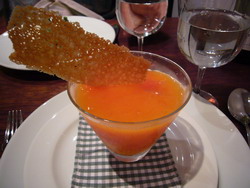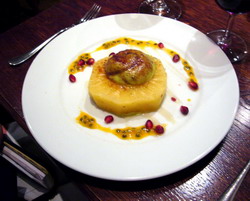 Two luscious desserts: a pistachio crème brûlée served on a pineapple slice and garnished with passion fruit and pomegranate seeds; and a simple pink grapefruit sorbet.
§
A single sour note: At ten-thirty, the joint was still jumping. Lingering over our coffee, we were suddenly asked to vacate our table for another sitting. We hadn't been rushed and we were on the point of leaving, but when there is a time limit, advance notice should be given. Others have complained of much worse schedule manipulation. What do you do if you have a small capacity and a large demand? Never mind—the service was friendly and efficient and our hostess had the good grace to be "desolated" when she turned us out. And the food was so utterly splendid and reasonably priced that it would take serious discourtesy to make me unhappy to return.


L'Ourcine 92, rue Broca, 13 th arr, Tel 01 47 07 13 65 Mº Les Gobelins
©2007 John Whiting
Back to the beginning of this review
---