back to basics
L'Office
There has been a dramatic alteration in the Paris restaurant scene and it's mostly been at the lower end of the market. When I set out to research our recent visit I found a consistent thread of enthusiasm for modest bistros run by young chefs, with small dining areas full of odd bits of furniture that might have been gathered from the street.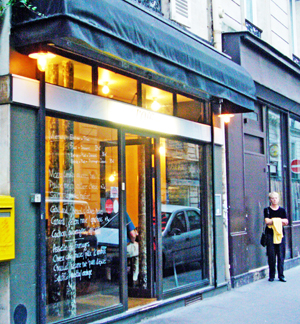 One of those most often recommended was L'Office. Alexander Lobrano pulled out all the stops:
. . . the very brief blackboard menu is a perfect expression not only of the quartier's sensibility but the type of cosmopolitan market-driven contemporary bistro cooking that is the best eating in Paris right now.
But you'd never know it just by looking. Lobrano describes it accurately as "a laid-back storefront spot with negligible décor." Office? Too grand a name: who would invite clients into an office furnished with throw-aways? Nevertheless, it's been going for half-a-dozen years under a succession of chefs who appear to have kept the standards high.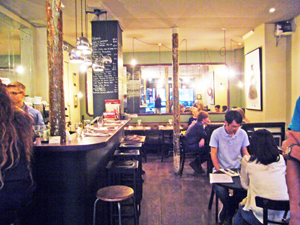 Lobrano says that in the evenings it's popular with "local hipsters". I don't know how hip they were, but most of our fellow-diners could have been our grandchildren. (Not entirely—there was a lady at one table old enough to be our daughter.)
Where do these mômes get the fric? At 33€ for three courses it's reasonable but not cheap, even by inflated Paris standards. As for the wines displayed on the walls, they climb rapidly into the higher double figures. Nevertheless, there was a line of kids waiting to buy takeaway bottles who looked as if they ought to be queuing up for a club night.
-0-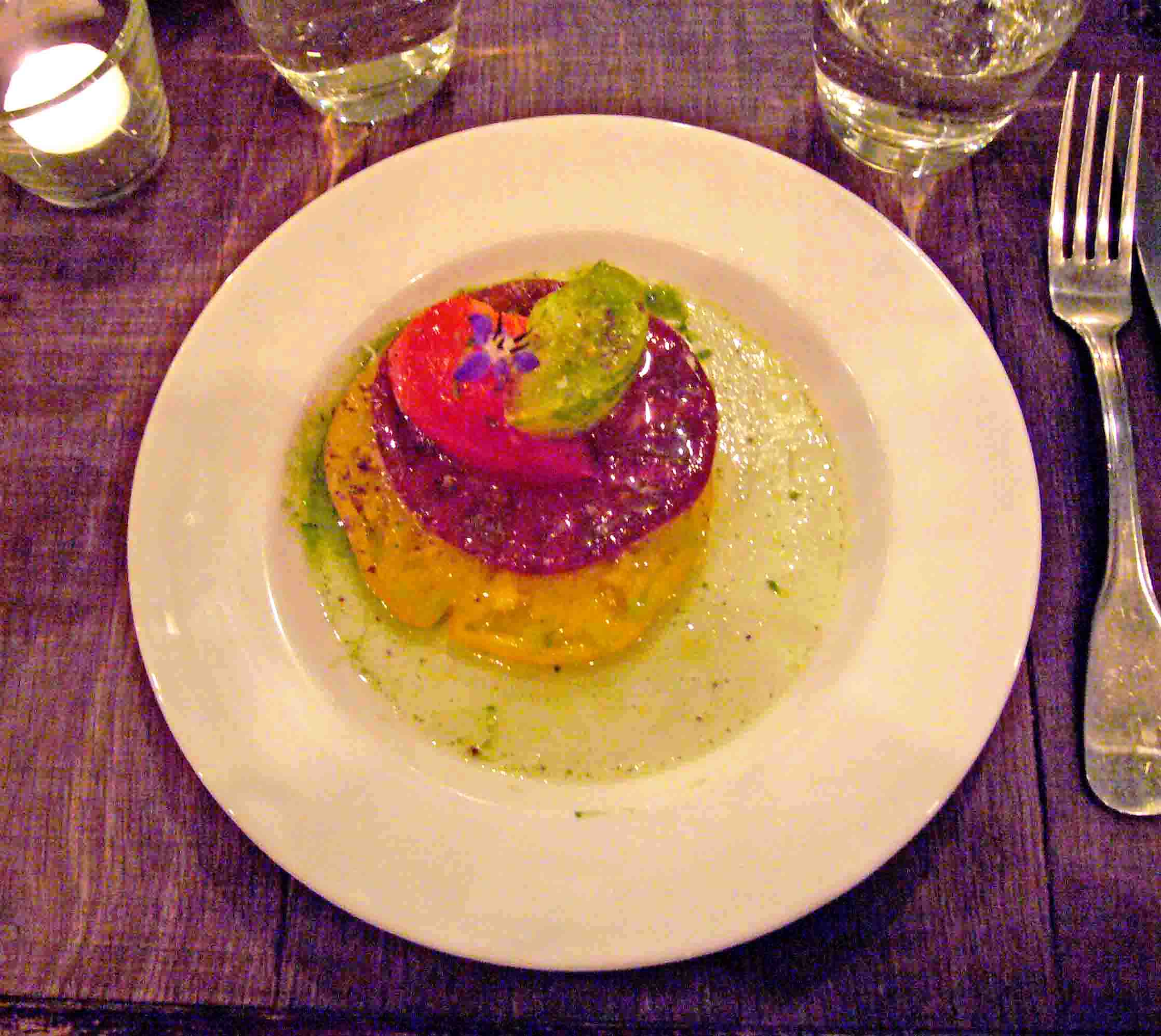 And then my first course arrived and I was blown away. It was a simple little dish with a stack of four very thin slices of tomato on a bed of cheese dressing. But the tomatoes were heritage varieties from Provence—ananas, zebra, coeur de boeuf, noire de crimée—and the dressing was crème de mozzarella avec basilica. I savoured each and every tiny mouthful, some with just a bit of a single tomato, some in combination, some with the sauce, some without, and then a bit of the dressing on its own. It was pure genius! If my dinner had consisted solely of a platter of this heavenly assemblage, I would have gone on my way rejoicing.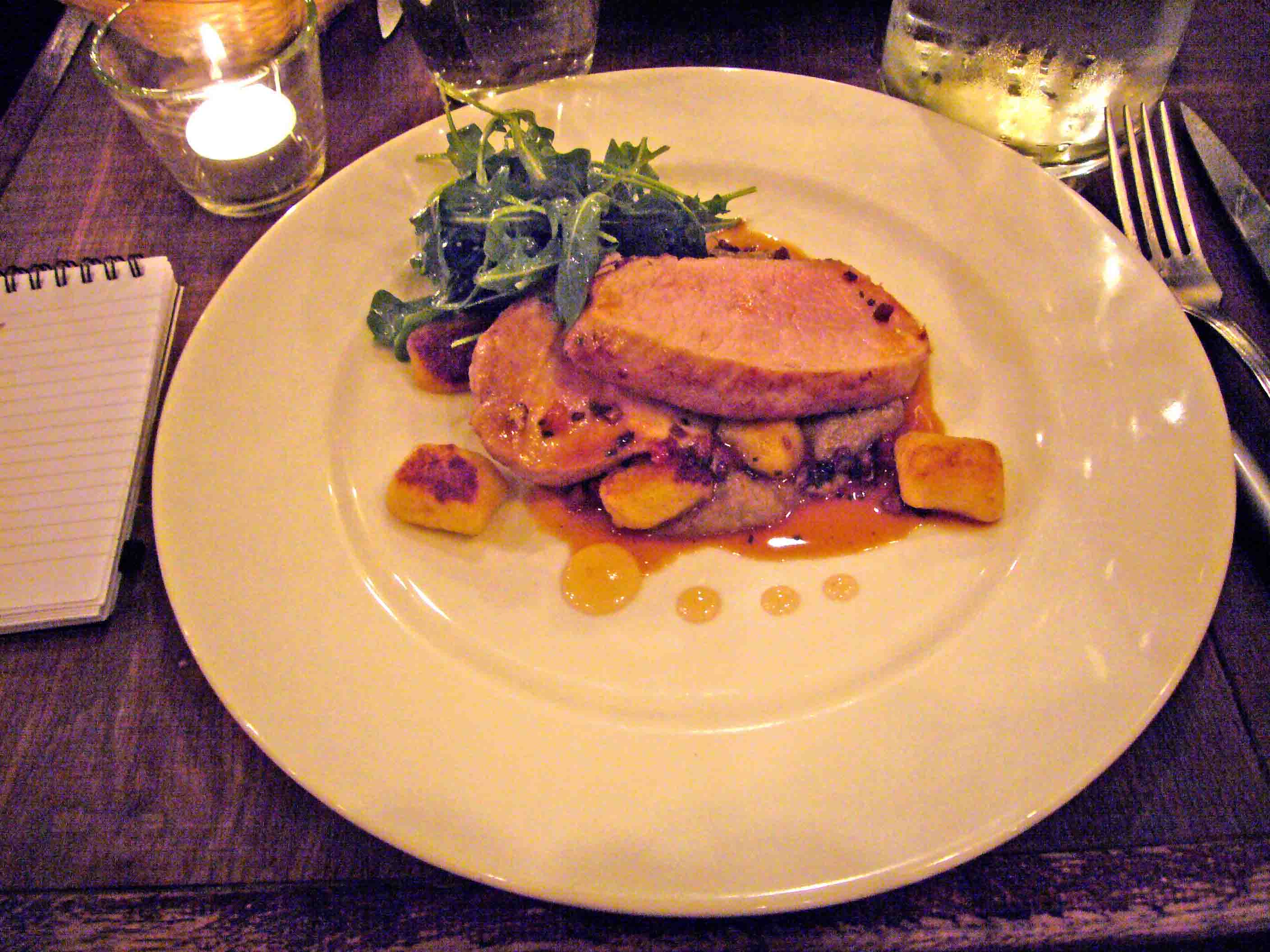 My main course [right]was equally simple and delicious, thick slices of juicy roast pork layered with aubergine and gnocchi sautéed to brow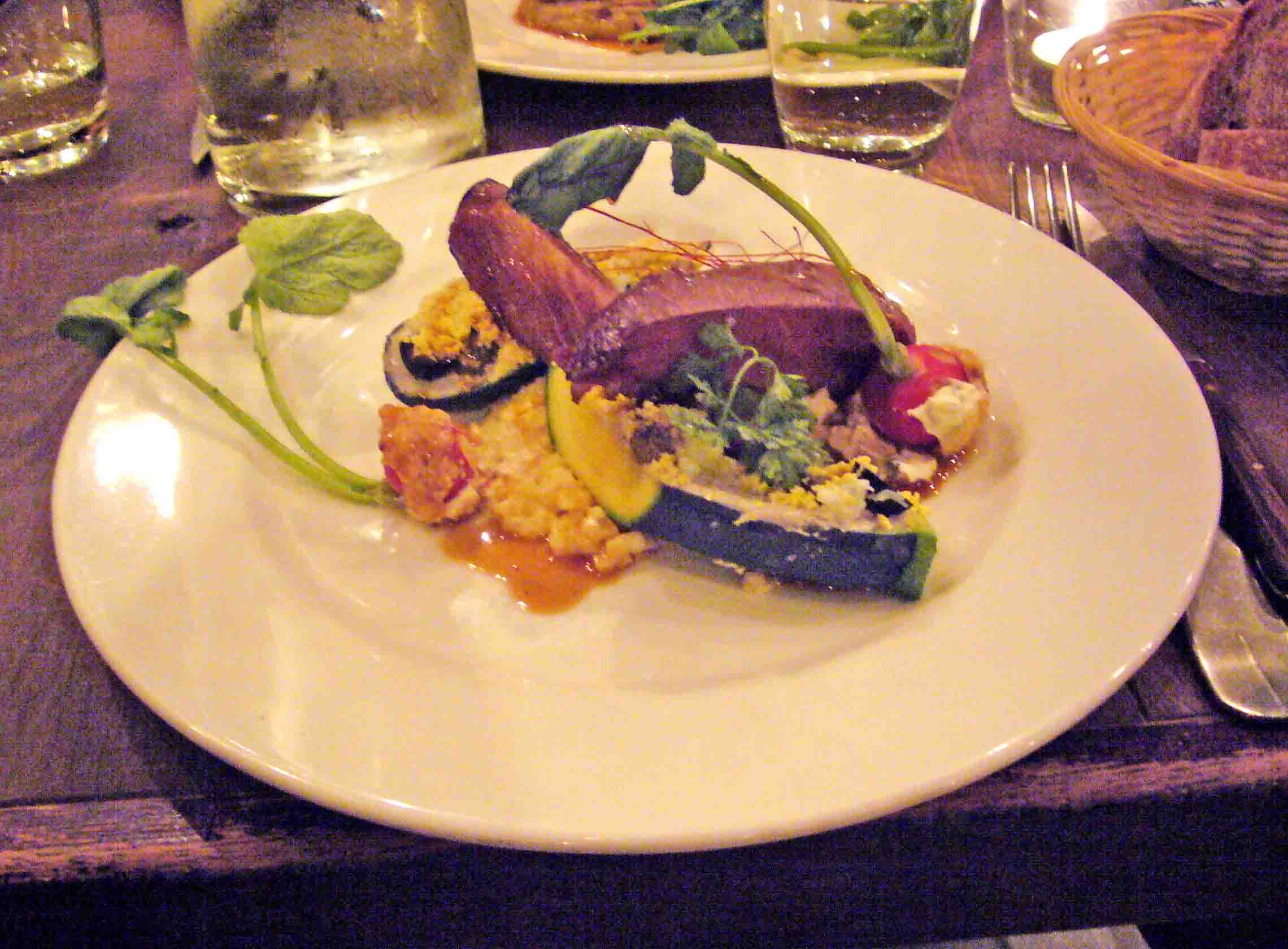 nness, with a bit of rocket on the side. Mary's duck [left] was dressed with a sauce of anchovy purée, capers and tiny olives. And it had an intriguing portion of little rice-like pellets that on enquiry proved to be finely chopped celeriac cooked like risotto, Ingenious!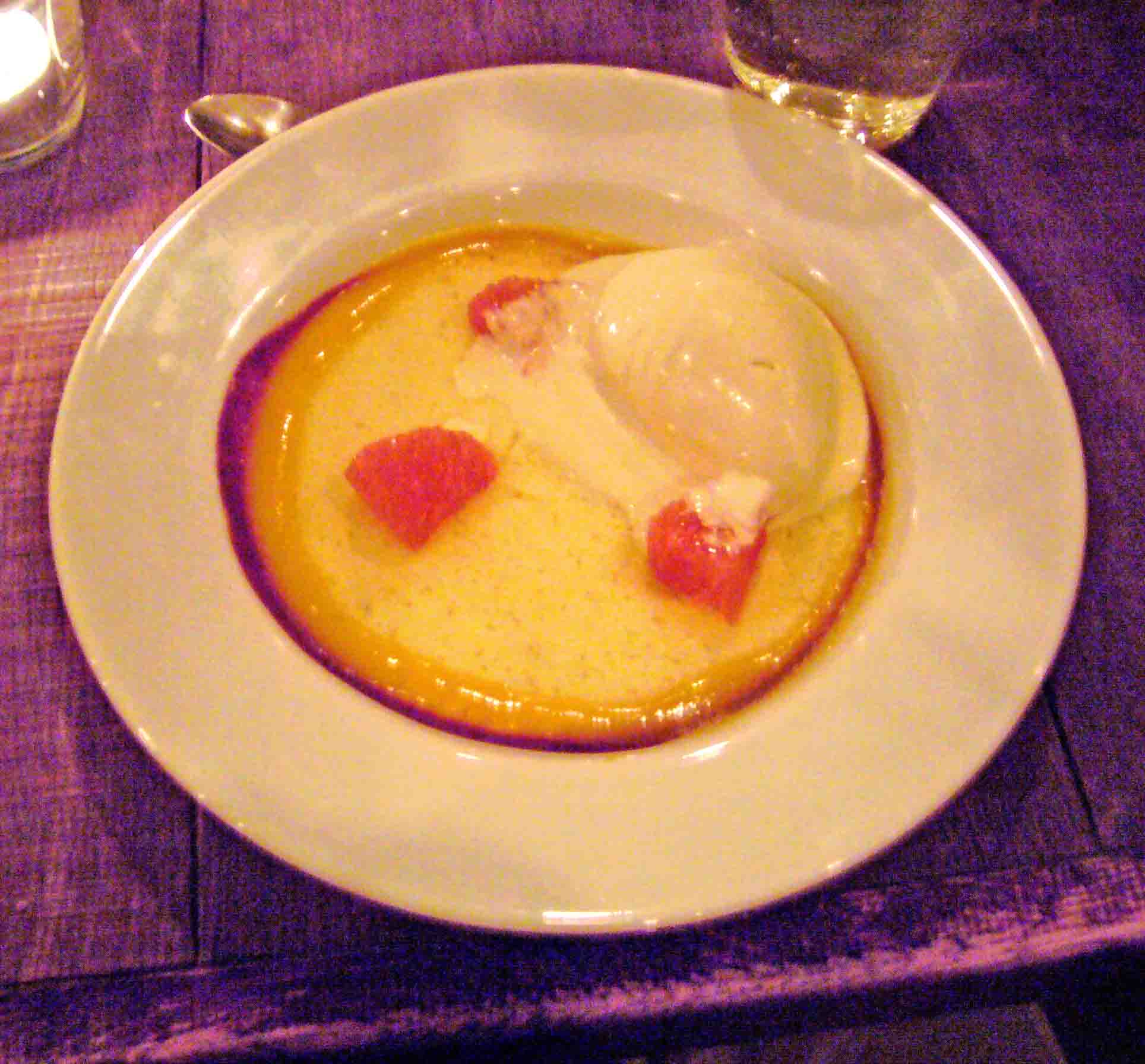 But the dessert, alas, was a bridge too far. We had eaten such a superb soufflé the night before that when we saw Soufflé/ricotta/orange on the slate we both went for it. The chef had stretched the culinary term to its breaking point. You couldn't rightly call it a soufflé—it was just a flat over-cooked custardy pudding with ice cream on top and four bits of pink grapefruit that didn't go with the other flavors.
What a let-down! Meg Zimbeck had reported, "Not every plate was perfect, but each one featured some sort of interesting surprise." As the saying goes, we were more surprised than pleased. It was a mixed evening.
-0-
Fortunately, as I write this, what remains strongest in my memory is that simple, perfect tomato salad. ­­­­I will close with an excerpt from Waverley Root's review of Bistro 121 in his Paris Dining Guide [1969]:
. . . [T]his is a restaurant that would pass with flying colors the test once devised by the gastronomic editor of Le Monde, who ordered at the most reputed restaurants of Paris salade de tomates as a starting dish. His theory was that a first-class restaurant should devote loving care to the preparation even of the humblest dish. He scarified the three-star restaurant where he was regarded with disdain for this choice, and was then served a few slices of tomato to which the kitchen had applied nothing but a knife . . .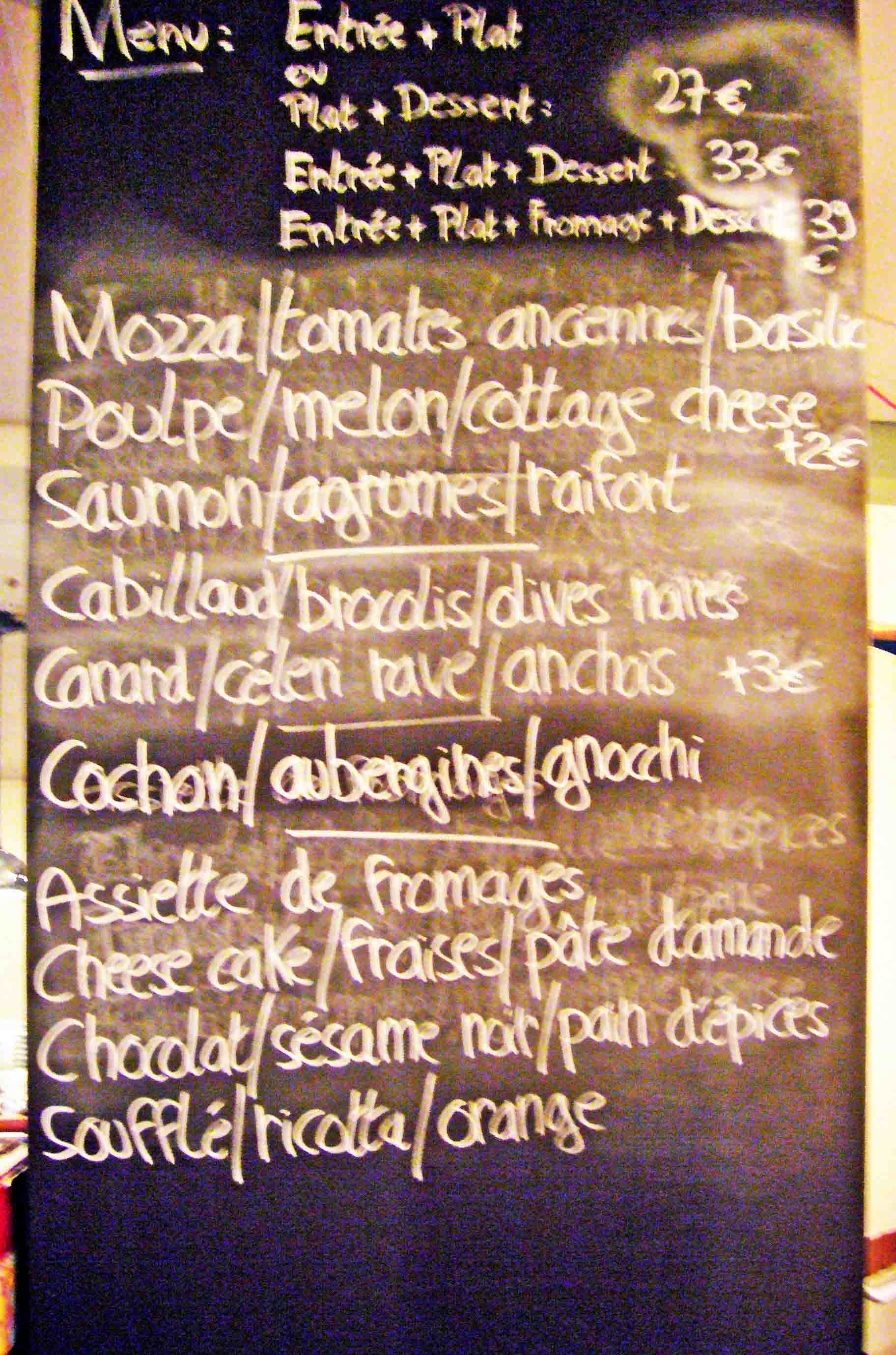 L'Office, your colors were flying as well!
©2013 John Whiting
---
L'Office 3 rue Richer, 9th Arr, 01 47 70 67 31, closed Sat-Sun, Mº Cadet