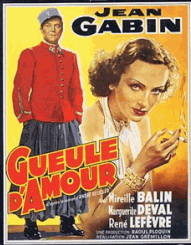 La Grille Montorgueil is one of the last institutions to survive amidst the chain bistros and fast food takeaways that now line what used to be the oldest market street in Les Halles. On a warm August evening when all the pavement tables were occupied, I was glad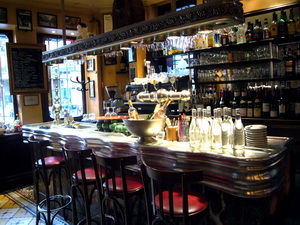 to retreat into the dining room, well away from the tourist tat. On the way in I passed the zinc bar that a sadder but not wiser Jean Gabin had leaned against in the 1937 film, Gueule d'Amour, having once tended it in his younger days. I sat in the deserted room, mentally turning the clock back.
Offered as a starter on one of the indoor blackboards was a Meli Melo de gesiers et rillons grillés, a mish-mash of grilled gizzards and pork belly scattered over a lettuce-and-tomato salad. It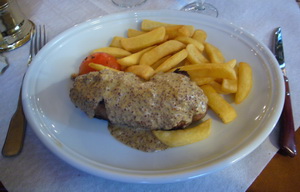 was good rough stuff, chewy and tasty. I followed it with more miscellaneous innards packed into an Andouillette AAAAA smothered in a vigorous grain mustard sauce and accompanied by perfect pommes frites. Poor Gabin should have stayed in Paris and contented himself with the products of his own kitchen.
La Grille Montorgueil 50, rue Montorgueil, 1st Arr,
Tel: 01 42 33 21 21, Mº Etienne-Marcel
©2008 John Whiting
Back to the beginning of this review
---