Friends old and new
Mon Vieil Ami
Where should I look for reliable information on the ever-changing restaurant scene in Paris, which I visit at most a few times a year? Once upon a time, the Blue Guides, which were used until they fell apart, included restaurants and hotels. To patronize them today you'd have to travel back in time in a tardis with Doctor Who.
There are the standard guidebooks such as Michelin, but the restaurant world is now so volatile that by the time the latest edition has reached the shops it's already out of date. (And recently an ex-employee revealed that even the great stars in its culinary firmament are not necessarily visited every year.)
The Time Out Eating and Drinking Guide has been as useful as any at the bistro end of the market, which I'm most interested in, but new editions only come out every few years. Then there's the all-inclusive Pudlo Paris, but its very catholicity makes it scarcely more useful for short visits than Les Pages Jaunes.
What of the Paris newspapers and magazines, available via their websites? There's a constant demand for fresh copy that makes it necessary for journalists to keep coming up with a new Greatest Restaurant of the Year. Back in 1973 John Hess reluctantly agreed to review restaurants for the New York Times; he packed it in after nine months because he found so few new places that were even acceptable.
So what I need is a judicious authority with no commercial interest in what he writes, who could survive indefinitely without discovering a single new chef worth patronizing. Enter John Talbott.
Dr. John Talbott is a professor of psychiatry for the University of Maryland in Baltimore and in Paris who seems to spend much of his time editing a running wrap-up of the Paris restaurant scene for the food website eGullet, together with quotes from the Paris press and brief personal reactions to those places he has visited. His reports suggest that although he is keeping up with the latest developments, he is at heart a classicist who measures his discoveries, not against the ephemeral magnets of fickle celebrity, but against those survivors that form and maintain loyalties born of long familiarity.
And so Mary and I set off on our latest Paris pig-out with a short list of five bistros which John had recommended but which had not yet found their way into the guide books. Risky? Less so, it turned out, than all those authoritative and expensively bound volumes. Not only did all five prove to be slam-dunk certs (in the elegant phraseology of George W's former CIA director), but we returned to a couple of them with equal satisfaction.
-0-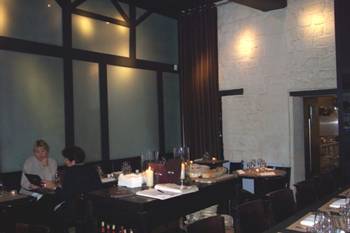 One of these was Mon Vieil Ami, a Paris spin-off from a favorite Strasbourg restaurant, Antoine Westermann's Buerehiesel. (Click here and scroll down to the end for an account of my last visit.) His former sous chef, Antony Clémot, has been put in charge.
This thoroughly up-to-date bistro has taken over an old stone space on the central street of Ile Saint Louis and modernized it without violating its nature or its neighbors. In fact, it is so discreetly signposted as to be easily passed by, as we did on our second visit.
Inside, the massive wall of old stone together with an adjoining gray wall with accentuating dark wood beams give the room a solidity and quiet dignity – nothing extreme, either of ambiance or of décor. The American accents we heard at adjoining tables, together with the alternative English cartes, told us that the very favorable review from Patricia Welles in the International Herald Tribune at the end of January had done its work.
As for the carte, the fact that the vegetable content of every dish was itemized before the meat or fish gave a strong indication that the former were receiving a lot more attention than in traditional French cuisine. It promised an approach to dish building rather like that of California's distinctive restaurants such as Chez Panisse. I had already noted the same approach at Westermann's home base in Strasbourg half-a-dozen years before, although back then the meats were as usual listed first.
If further proof were needed, it came in Mary's first dish, Légumes printaniers en salade tiède, máche et petites girolles poêlées. This contained so many lightly poached, perfectly blended vegetables that she set out to list them. They included yellow carrots, courgettes, yellow squash, green beans, green onions, peas, cauliflower, mange toute, asparagus, celery, fennel, bibb lettuce, alfalfa and two kinds of mushrooms, served in their own vegetable jus. Like a well-made ratatouille, each was cooked to the proper degree, suggesting that they had been added successively, each at the crucial moment.
My own entrée was an ordinary-sounding Pâté en croûte de Mon Vielle Ami, salade à l'huile de noix which proved to be anything but ordinary. The crust retained a rare crispness, even underneath; the solid meaty bits actually tasted of duck rather than "some form of animal protein", the bouillon was intensively flavored and springily jelled, and there was an eye of fresh foie-gras in the middle that I felt obliged to share with Mary, to our mutual delight.
For a main course, I ordered the much-praised Carottes et navets étouvés aux épices, canard de barbarie braisé et caramélisé. I could tell immediately why the meat was mentioned last. In itself it was of modest flavor, but it had distributed its essence into the carrots and the turnips with an unaccustomed generosity. These had maintained their own distinctive identity; classic French cuisine would typically have utilized them as a mere flavoring agent. Modern French cuisine involves, in a very real sense, a shift in perspective.
In Mary's Légumes cuits façon Bouillabaisse, lotte rôtie, the monkfish was similarly incorporated into the vegetable totality, the name indicating that the method of bouillabaisse was employed, but equal billing had been given to the vegetables.
For desert, my Tarte aux chocolate was very satisfyingly warm, rich and creamy. Not the most sensational I've ever had, but no complaints. Mary's Salade de fruits frais et exotiques aux épices was again a winner: like her warm salad at the beginning of the meal, an extravagant mix of ingredients. In the fresh syrup she noted strawberries, cherries, peaches, pineapple, kiwi, raspberries and fig.
Both the food and the ambience had been so satisfactory that we decided to return for Sunday lunch, at the expense of some other bistro which would have given me subject matter for another review. As the room filled up, we were delighted to hear that this time the clientele were mostly French-speaking. Sunday lunch is the archetypal French family meal – it's normal to see three generations together at the table. Mon Vieil Ami had demonstrated that its friends were not exclusively from across the ocean.
For a starter, Mary returned to her warm salad. This time the vegetables were not quite so prolific, but the dish stood up well on its own without demanding comparison. My own choice, Confit de légumes et l'oignon, sardines marinées et tartines grillées , proved to be a generous serving dish of cold vegetables and fish, a sort of concentrated, slightly caramelized ratatouille – an ample serving for two which I nevertheless had no trouble in finishing off with only a little assistance.
This time Mary went for the Pommes de terre rissolées aux oignons et à l'ail, rognons de veau poêlé au Pinot Noir. It was a gargantuan helping of monumental proportions which featured a Stonehenge circle of five whole kidneys. I generously helped her to dispose of them. I returned to my fine barbarie duck dish of the previous visit; nothing new to add.
Part way through our meal, a lone American wearing a designer T-shirt occupied an adjoining table. Unsurprisingly he proved to be the owner of an avant-garde clothing shop in Santa Monica. Certain small-scale couturiers, he informed us, were now identified as "artisanal", like rural Italian sausage-makers, and commanded correspondingly inflated prices. One worker in leather, he said, takes his raw materials to Afghanistan, where they are subjected to the elements; their much-abused remains are then made into remarkable garments whose origins one would never imagine.
As he spoke, I thought of what a cuisine might be like that was similarly born of battlefield extremity. (I didn't share my thoughts with him and so we parted on friendly terms.) Fortunately, even the most trendy of gastronomically scientific chefs has not yet gone to the surrealistic lengths of haute couture. As for Mon Vieil Ami, it stays firmly within the boundaries of the rational and the pleasurable, and so we would gladly pay it another return visit.
Mon Vieil Ami, 69 St-Louis-en-l'Isle, 4 th , Tel 01 40 46 01 35
Back to the beginning of this review
---