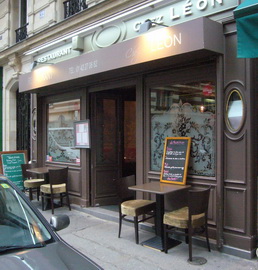 Worth a detour!
Chez Léon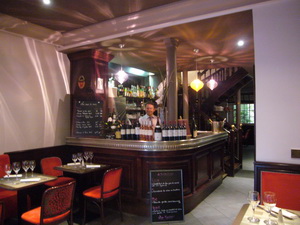 John Talbott's enthusiastic review led me to this inaccessible spot out in the 17th; I went away feeling that I would, if necessary, have walked all the way from the Eiffel Tower. Its isolation was reflected in the fact that many of the clientele seemed to know the staff and each other. The camaraderie was contagious; before the evening was over I was not dining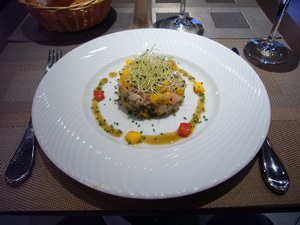 alone.
Emmanuel Rubin describes it (says John) as "down home cooking with a modern flair". The latter was immediately apparent in my raw fish starter, tartare frais de dorade with mango and lemon liqueur, a delicate blend of flavours that gently paved the way for my rich and calorific main course.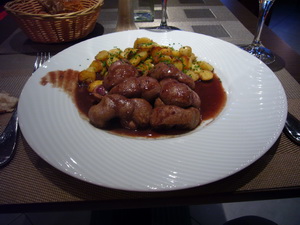 Rognon de veau roti, sauce lie de vin, was an entire roasted veal kidney in a deliciously concentrated sauce made from wine dregs (Nothing wasted but the pips!), served with little pommes rates de Touquet, a tasty firm-fleshed potato from Picardy. Sautéed potatoes don't come any better (unless they're cooked in goose fat).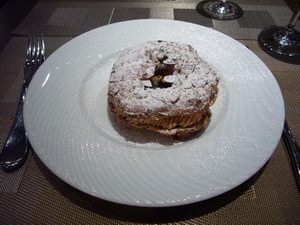 My Paris-Brest was a doughnut to blow Krispy Kremes out of the water – a large melt-in-your-mouth choux pastry ring filled with almonds and butter cream.
The ardoise for the market menu looked inviting and changes every day. If I lived in the neighbourhood, I'd be coming here as often as my wallet allowed.

Chez Léon 32 rue Legendre Paris, 17th Tel: 01 42 27 06 82 Mº Villiers