Anyone for skittles?
Le Jeu de Quilles
Hugo Desnoyer is perhaps the best butcher in Paris. His happy customers range from the fussiest and richest private homes through the French Minister of Education to a whole roster of Michelin starred chefs. And now a little bistro has appeared next door, Le Jeu de Quilles, open only for lunch Tuesday through Saturday (and certain evenings for private parties). The chef, Benoît Reix, comes from Les Fines Gueules, which I wrote up last year. He brings with him the same attitude towards his ingredients, whose provenance is as meticulously documented as a Mormon's ancestors.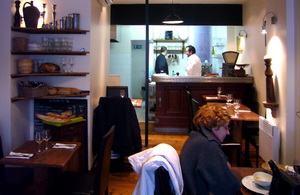 It's a tiny informal bistro with only seventeen covers – not the sort of place where you'd expect to see the punters arriving by taxi. But all the top Paris reviewers have pronounced it the greatest thing since sliced truffles: do a Google search and yo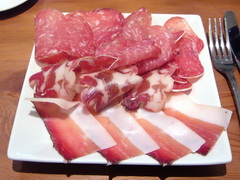 u'll hear the sound of smacking lips.
Having reserved for opening time, which I always like to do, I had the place to myself. After an amuse gueule of fine little sausage slices, I proceeded happily to a further assortment of charcuterie with an amazing range of distinctive flavours.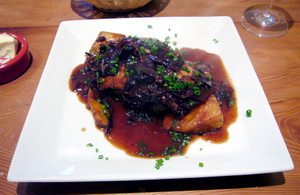 For a main course I was shown a fine piece of pink veal that was not on the ardoise. It arrived cut into big pieces and quickly sautéed, smothered in red cabbage than tasted much like Robert Carrier's wonderful Germanic recipe. Dessert was a generous hunk of no-nonsense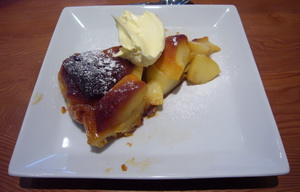 apple pie.
During the meal I twice tested the management's savoir faire: first, by dropping my fork (instantly replaced) and second, by knocking over my half-full wine glass (it was quickly mopped up and replenished, without charge). The waiter's continuing smile didn't look in the least forced.
The only unpleasant surprise came with l'addition – the veal had incurred a 10€ supplement of which I was given no warning that I was aware of. For a 25€ set lunch, that's rather a hefty amount; with two glasses of wine and a coffee it brought the total to 51€, not a small bill in such an informal establishment. Nevertheless, the food and service were memorably first-r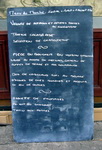 ate. I'll be back, but I'll stick with what's offered in writing.
Jeu de Quilles 45 rue Boulard, 14th Arr, Tel: 01 53 90 76 22 Mº: Mouton-Duvernet
©2009 John Whiting