Never eat more than you can lift
Les Fines Gueules announces itself as a haven for hungry gourmets. Gueule has a more animalistic ring to it than bouche—a snout, perhaps, rather than a mouth. Like the German Feinschmecker, there's a smacking of the lips, a bones-over-the-shoulder abandon. What better way to begin our week in Paris? Start as you mean to go on!
In its new incarnation, this bistro is only a month and a half old, so new that they haven't yet put up a sign. Until recently it was La Tourelle, a neighborhood café, which is what it still looks like from the street. There's a row of seats along the pavement and through the window you can see a well-lit shiny copper-topped bar. It could still be a café, perhaps, or a wine bar. Indeed, it is these and more. Tucked away to the rear is an ancient stone-walled cave with tables (non-smoking), and upstairs more dining space.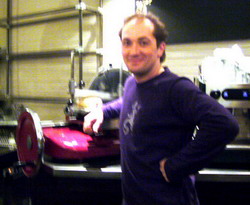 It is in

fact whatever you want it to be. Stop by for a drink and you're likely to find a few regulars en ruminer with the new patron, Arnaud Bradol. Feeling a bit peckish? There are light refreshments. Get seriously hungry and the kitchen will turn out a first class three-course meal. The dishes on the blackboard change every day.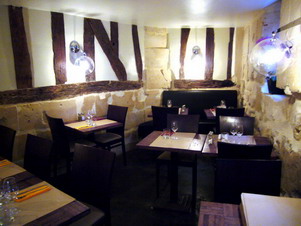 When we went to Paris last week, the omnipresent John Talbott had already discovered this little jewel and labeled it "the find of the year", and so we chose it as the spot to launch our gastro-marathon. It was noteworthy, we were told, for the excellence of its raw materials, and so we were content to order simple dishes. We started with gravelax and asparagus—you can't get much simpler than that.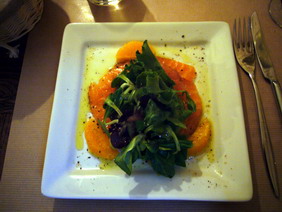 My gravelax was as it should be, and piled up with spanking-fresh young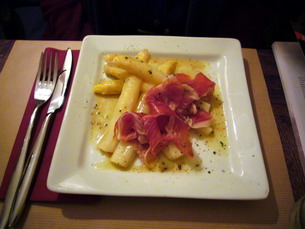 salad leaves with a lemon-and-sweet-spice dressing. Mary's white asparagus was accompanied by jamon, the Spanish mountain cured ham. The doubling of its name on the blackboard to jamon jamon was no doubt a reference to the Spanish film of 1992, a tragic farce linking garlic, ham and sexual potency. A dangerous omen—would we overextend ourselves? In the event, we're still alive.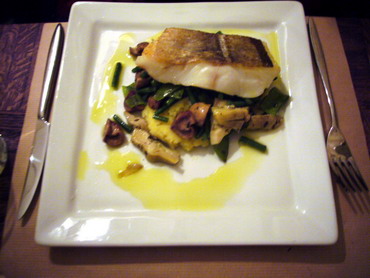 Having grown up in Grimsby, Mary is very particular about her cod. She found her thick "paving stone" very fresh and perfectly cooked, each flake separate and intact. It was served on a melange of vegetables—"quartered artichokes, quartered mushrooms, sliced French beans and pieces of mangetout, each one a lesson in how it should be cooked." Beneath was a bed of mashed potatoes, "also perfect".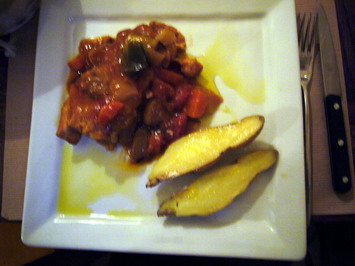 My veal rib roast was a triumph of slow cooking, the meat rich, juicy and falling from the bone. It was served with a thick stew of tomato, shallots and carrots, completely cooked and infused with the meat flavor but still keeping their individual textures and with a remarkable freshness. A potato, halved and perfectly roasted. Slow cooking doesn't get any better than this.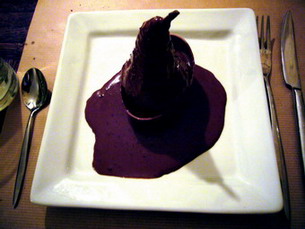 We had decided in advance not to have a dessert, but an intriguing dish arrived at a nearby table and we yielded to curiosity, sharing one between us. It was a poached pear, served up like a broad-beamed Botticelli Black Venus ensconsed on a chocolate coquille and covered from head to bottom with chocolate sauce. The sauce was thick and rich, but neither it nor the pear was overly sweet—a tasty and inventive take on the classic poire belle Helène.
Since Les Fine Guelles is also a wine bar, the fridge is generously stocked with open bottles, and so I asked for a carafe of whatever Gaillac our host recommended. What arrived was so good that on the way out I asked to see the label. It was a Domaine Philémon, Perlé 2004, from a vineyard near Villeneuf-sur-Vére. That's less than 25 miles south of Najac and so I emailed the address and phone number to our old friends Hugh and Meg, who have gone to heaven without having to die first. As Michelin puts it—worth a detour.
Compared with other Paris bistros, Les Fines Gueules isn't exactly cheap, but the quality is first-rate and you can order as little or as much as you like. If it were my local, I'd be spending more time and money there than was good for me.
Les Fines Gueules 43 rue Croix des Petits Champs, 1st arr, Tel 01 42 61 35 41,
Mº Les Halles
©2007 John Whiting
---
August 2010 John Talbott writes: Les Fines Gueules . . . has recently undergone a change in chefs to a Japanese guy (according to the last A Nous Paris before the Great Flight). It seems totally unchanged - seamlessly transitioning from one chef to another; which is all to the good, since the original formula - good product, well cooked, presented in a pleasant manner by friendly staffers - worked well when it opened in April 2007 and has stood the test of time.
Back to the beginning of this review
---