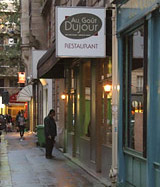 taste is on the agenda
Au Goût Dujour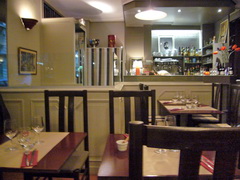 In the eGullet food forum, "pierre45" discovered this little gem even before John Talbott, who later enthused at length in his own blog. They were both right. This new bistro, tucked away in the 15th on a street of Asian eateries, deserves a place on the honor roll of modern, market-driven establishments, most of which are charging substantially more.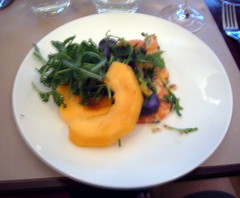 As with several Paris bistros, Chef/Proprietor Denis Dujour has given his establishment a punning title. It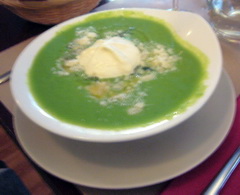 didn't appear to corrupt the cuisine. My starter, Madagascar prawns with tiny balls of black pudding [left], was a curious combination that worked much better in practice than in theory. It was served with a slice of perfectly ripe peach. Mary found her puréed pea velouté with parmesan [right] a bit heavy on the cheese.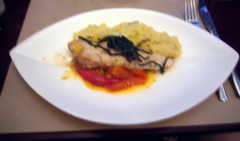 My filet of John Dory with polenta [left] was perfectly cooked, but Mary's pintade [right] followed the widespread but unfortunate fashion of barely showing the bird to the fire. It was almost impossible to cut from the bone, even with a sharp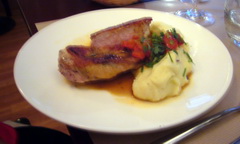 knife, and it was bright pink in the thicker sections. What's the point of playing Russian roulette with poulet tartare? If I want salmonella, I'll settle for Jane Fonda as a mermaid. At least four other bistros reviewed in these pages were guilty of the same trendy gamble. Mary sent it back to the kitchen, whence it returned tasty and properly cooked.
Chris and Haley had joined us for a second night. They were happy with their courses, but I didn't take notes or photos.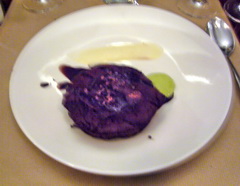 My chocolate gateau [left] was half-way to being a pot de chocolat and none the worse for it – a deliciously sticky, gooey mess. Mary's rice pudding [right], decorated with a single tile, was
prop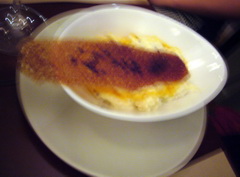 erly cooked down to an equally viscous consistency.
I'd love to give Denis Dujour full marks, but Mary's first two courses, alas, were disappointing. Nevertheless, based on my own meal and the experience of others, plus his daily market shopping and very reasonable prices, I'd give his bistro a cautious recommendation.

Au Goût Dujour 12 rue Beaugrenelle, 15th, Tel: 01 45 71 68 36, Mº Charles Michel
©2009 John Whiting