Semper Fidelis
Chez Georges
There are certain Paris restaurants whose clientelle is so loyal and so local that even if the US were to declare Paris off limits in retaliation for some chance critical comment on its next preventive war, you still couldn't get a weekend table without a reservation.
But lucky visitors are able to smack their lips over what Parisians take for granted. Chez Georges is such an establishment, the sort that restores one's flagging faith in the continuity of unpretentiously old-fashioned bourgeois French cuisine. The timeless décor, the comfortable banquettes, the cheerful bustling waitresses and above all the unvarying and faultlessly realized culinary clichés – all combine to send you out the door expecting to find a Citroen Traction Avant waiting to run you back to the Ritz. Charles Shere wrote to me:
I was at Chez Georges, a fine old Paris bistro that we should have visited years ago, though it has by no means lost its character. I had a dinner of my dreams: frisée salad, that wonderful invention, curly endive dressed with a little vinegar and bacon and a poached egg, a dish I always think of as quintessentially French and which always reminds me of Tom Guernsey who used to make it for brunch at Chez Panisse in the old days, and calf's liver again with bacon, served with French fries of course. Not perhaps the healthiest dinner, but carefully adjusted with a bottle of good red, and eaten in good company.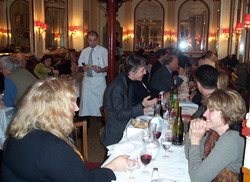 I had been there a few days before with San Francisco Chronicle food correspondent Marlena Spieler and my old friend Frank's wife Barbara. Marlena had the frisée salad which was indeed splendid; I had the chicken liver pâté which, speaking as one who makes it often at home, was just as it ought to be.
For
a main co

ur

se I opted for my old favorite tête de veau sauce gribiche, veal's head with caper sauce. To my delight it

included the brains. A few weeks before I'd been told this was no longer legal; th

at

's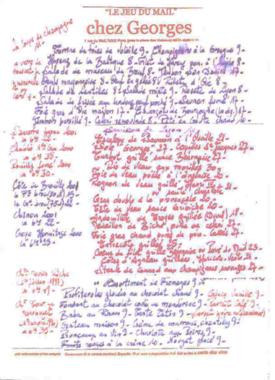 a horror story told at the end of my Caves Pétrissan

s review.
The Chez Georges carte, like that of Chez Gramond, is virtually illegible even at full size but it conveys the atmosphere of the place so graphically that I include it here, not for information but as an objet d'art. One has the feeling that every diner knows the repertoire so well that a written list is superfluous.
Over the years a number of Georges have opened eponymous Paris restaurants. Half a century ago there were two Chez Georges in Waverley Root's Paris Dining Guide. One was Russian; the other was a cheap, cheerful and generous establishment out in the 17 th. With the creation of the nearby Palais des Congrès in 1972 it moved up market, so that today it is no longer cheap and has a rather pretentious website in English, French and German which informs us that "its traditional cuisine is influenced by contemporary creativity." My vote goes for the "unimproved" Chez Georges in the 2 nd.
Chez Georges, 1 rue du Mail, 2nd, 01 42 60 07 11, Mº Bourse
July 2010 John Talbott has just been back to this venerable institution, which has changed management, and reports:
It's more than a trip down Nostalgia Lane, it was a fine meal.
August 2010 Included in John Talbott's The Perfect French_________(fill in the blank)