Cheeky Frenchie
Thursday and Friday nights we'd saved for two of the hottest new restaurants in town, Frenchie and Le Gaigne. Both are in the tradition begun by Christian Constant and his protégés and more recently followed by Daniel Rose at Spring, another hot number — young classically trained chefs making well-constructed dishes, often to Michelin-star standards, but from less expensive though carefully sourced ingredients and served in modest quantities in equally modest venues at prices approaching those of ordinary neighbourhood bistros.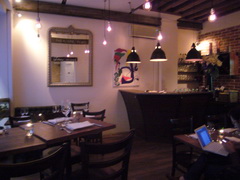 Frenchie, owned by Chef Gregory Marchand, is very centrally located on a small street near the Sentier metro. It's a rather cheeky name for a serious Paris bistro, but it was his nickname, both in London where he worked with Jamie Oliver at Fifteen*, and in New York where, he told me, he was cooking as recently as last year at Gramercy Tavern.** Since coming to Paris and setting up his own little place, he has had a whole sheaf of rave reviews. To my surprise, I was able to get a Friday night reservation with only a few days' notice.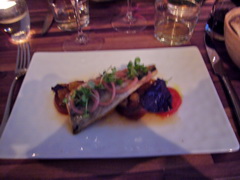 The 33€ evening menu offered a couple of alternatives in each of three courses, and so Mary and I immediately agreed to order one of each and share them. Her choice of a starter was pork-filled tortellini with tiny florets of raw cauliflower on the side and two fabulous sauces. (Somehow I lost the photo.) Mine [right] was smoked mackerel decorated with thin tomato slices and a superb "ancient" tomato and pickl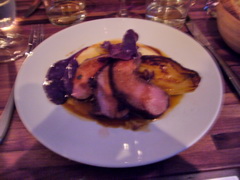 ed onion on the side.
Mary's main course was scallops with a slice of very crisp bacon and little moundsof tiny mushrooms, haricot beans and samphire (with a hint of lavender flavour?). (Another missing photo. Damn.) Mine [left] was superbly tender and flavourful pink veal (not the traditional sadistically produced white variety), with half a virtually caramelized braised fennel and puréed celery.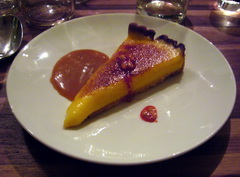 Two heavenly deserts: passion fruit tarte [left] with salted butter caramel, and barely-set panacotta [right] with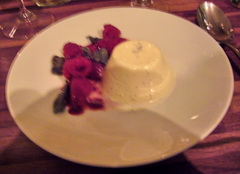 a sublime stew of strawberries and rhubarb and candied ginger crisps – John Talbott called it "simply the best dessert in years". Marchand acknowledges that it was influenced by Claudia Fleming of North Fork Table; the fruit stew was remarkably like what we had eaten with the Tiramisu days before at Monsieur Lapin.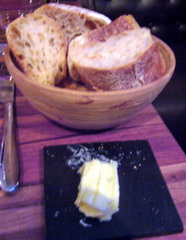 This is all high-class stuff at prices competitive with lots of bistros that are merely acceptable. A word of caution — go with someone you really enjoy talking to; our courses took up to forty-five minutes to arrive. With modest portions throughout, we were grateful that the excellent bread and butter hadn't been taken away. My own laid-back attitude is that I'd rather wait for a small quantity of something superb than be served immediately with a mountain of mediocrity.
Frenchie 5 rue du Nil, 2nd, Tel: 01 40 39 96 19, Mº Sentier
My menu photo, alas, was unreadable. If I were paying myself a photographer's fee, I'd fire myself.
*Fifteen, according to its website, was started to give disadvantaged youngsters the chance to gain professional training that would set them up for an independent, inspired and productive life. Jamie Oliver has always been a bit vague about how many professional staff were in the kitchen along with the apprentices; I doubt if Frenchie was one of the disadvantaged youngsters.
** One review says that he "recently did a stint at Danny Meyer's sublime Gramercy Tavern" but when Frenchie worked there it was already headed by Michael Anthony.
©2009 John Whiting
---