2006:This restaurant may have moved to the 15th, or there may be another with the same name. I'll post more definite information when I have it.
La Fontaine Gourmande
We dined at the first Paris bistro of our holiday with the ideal companions - a romantic young Antipodean couple, professionals early in their respective careers, who had found not only proper employment, but also that impossible object of desire, a Paris flat. It was a small but atmospheric loft of the sort that makes artists turn green with envy and mothers throw up their hands in horror. By a happy coincidence of which we were unaware when we booked, La Fontaine Gourmande was only a couple of blocks away.
The rough stone walls, dark timbers, simple old furniture and somewhat bohemian decoration, including a scattering of unframed posters,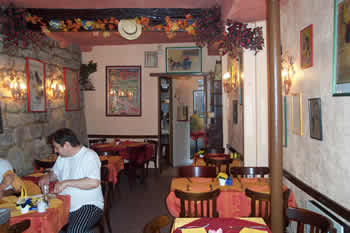 might have led me to expect rough peasant cooking, but any incipient misapprehensions were corrected as soon as I sank my teeth into the escalope de foie gras de canard au sirop betterave. The concentrated beetroot juice was a perfect accent to as succulent a slice of foie gras as I've ever been served. It had that supernal lightness of texture which makes you hesitate to open your mouth for fear it will take flight. The terrine de foie gras de canard au Calvados was equally distinguished, with a creamy oleaginous smoothness that would have soothed the vocal chords of a weary Wagnarian tenor.
Next, magret de canard caramélisé avec pommes confites au thym, another exercise in densely concentrated flavor. (I would cheerfully have eaten my way through the rest of the duck.) Accompanying all this, a decent Madiran. Writes Jancis Robinson, "Madiran can taste like a classed growth claret given the sort of Gascon twist needed to cope with magret de canard." This one coped very nicely.
We all went for the same desert, soup d'oranges de mon "Colonel". It consisted of pieces of orange floating in orange juice with a scoop of a sharp sorbet. and, I think, a touch of liqueur. After the two previous rich courses, the mouth felt thoroughly cleansed. My compliments to the Officers' Mess.
Service throughout the meal was informal and good-humored, everything arriving at the right interval and the right temperature, even after the other tables started filling up. We usually try to eat early - about seven-thirty - so as to get both chef and waitstaff at their best before the pressure starts piling on. If the waiter is inclined to be informative, this is the time it can be managed without neglecting the other diners. And any later enquiries about ingredients or methods are more likely to be answered accurately if we've already shown a serious interest.
La Fontaine Gourmande, 11 rue Charlot, 3rd Arr., Tel 01.42.78.40. Bill for 4, including 1 bottle of wine, 1040ff
© 2002 John Whiting
Back to the beginning of this review
---