Sacred cow
La Ferrandaise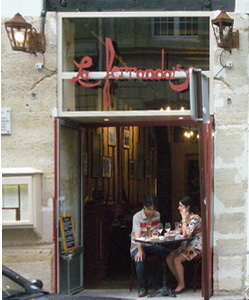 La Ferrandaise, a breed of cow once common in the Auvergne, was adopted by this bistro as a symbol of its dedication to traditional ingredients and honest cooking. It was our only bistro this trip selected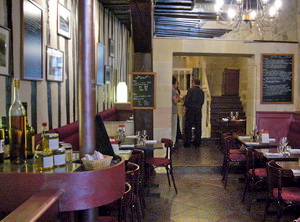 primarily for its location, but its Special Favourite rating in Pudlo was a reasonable guarantee of quality. The occasion was a long-anticipated get-together with Chris Koch*, who hired me almost half a century ago at KPFA, Berkeley, thus changing my life. (His daughter Haley was there as well – a gorgeous, brainy and ardently campaigning 22-year-old who joined in the conversation of her elders as an equal.) With such a reunion, even a feast of Big Macs would have been memorable.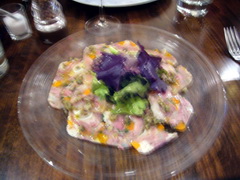 In the event, the food was worthy of the occasion. A bowl of whelks and some carrot sticks arrived as soon as we sat down – an off-beat healthnik prelude for a Paris bistro in an up-market neighbourhood. All my courses were from the day's specials. The

calves head terrine [left] was attractive to look at and delicious to eat, judiciously seasoned and not too vinegary. Mary's duck liver terrine [right] was as good as it usually is – it takes a positive effort to make a bad one.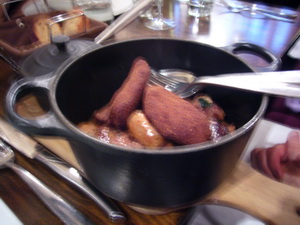 My casserole of calves liver and kidneys [left] also contained, along with the potatoes, a generous portion of fresh green beans, cooked just enough – not common in carnivore French

restaurants. Mary's fillet of sea bass with beefsteak tomatoes and a bowl of bulgur wheat with sweet red peppers met with her approval.
A quartet of delicious desserts accompanied our marathon conversation, which was too constant to allow the taking of culinary notes. Take my word for it – they tasted as good as they look.
All in all, good modern food, well prepared and reasonably priced – but watch the wine bill.

Three half-litre pots of the decent house plonk came to 50€, more than a quarter of the total.
NOTE: There's also a partial menu on the restaurant's website - click below
La Ferrandaise 8 rue de Vaugirard, 6th, Tel: 01 43 26 36 36
* Before becoming a major documentary film producer, Chris Koch was one of the pioneering radio journalists of his generation. When I knew him in the 60s, he was the first American reporter into wartime North Vietnam, back when you could get clapped in jail for it. This resulted in a series of award-winning programs which, if only President Johnson had listened to them, might have altered the course of history. He was also co-producer of Freedom Now!, one of the best programs on the civil rights movement. Indifferent to his personal safety, he jointly interviewed a couple of whistle-blowing FBI agents that the established media, one by one, had quietly smuggled out the rear exit. The melancholy long withdrawing roar of J. Edgar Hoover's fury would follow him the rest of his career. He tells these stories vividly – you can listen to them here. (Scroll down to the first conversation.)
©2009 John Whiting