Erawan = Erehwon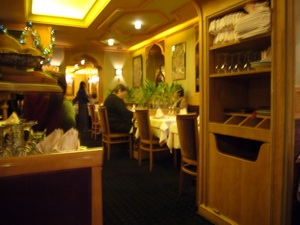 Wanting something lighter on a Sunday night, I decided on a Thai restaurant that Patricia Wells had written enthusiastically about some years ago. Erawan proved to be the only Paris restaurant this trip that I had trouble getting a reservation for; they could accommodate me only at 7:30, and providing I was out within an hour.
When I arrived the dining room was already full. The carte offered a cheap menu of Frenchified-sounding food for 12.50€, but I opted for a couple of familiar dishes from its extensive inside pages: tom yum goong (shrimp soup) and gaeng kiow wahn (green curry). Thai dishes tend to be soupy rather than thick, but both of these were watery and lacking both in solid ingredients and in the strong flavours I'm used to. It was like the famous but nondescript lamb curry at La Coupole – the French just aren't prepared to exercise their palates with strong unfamiliar stimuli. I was reminded of a Charles Ives anecdote: on an occasion when members of an audience were noisily protesting at a piece of modern music, he loudly commanded them to "Stand up and use your ears like a man!"
My modest adventurousness more than doubled the bill to 26€, including a small pot of jasmine tea (the only sort I was offered). A decided disappointment; I should have noted on the way in that the enthusiastic press cuttings behind a small window were yellowed with age.
Erawan 76, Rue Fédération, 15th Arr, Tel: 01 43 06 66 98, Mº Dupleix