Wise and witty
L'Epigramme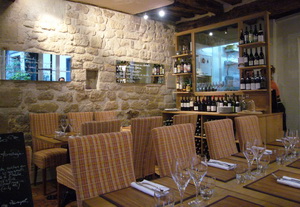 Improbably located amidst gastronomic tourist traps, this small bistro is epigrammatic of contemporary Parisian cuisine at its most satisfactory – unflashy, undogmatic, but thoroughly modern in the best sense, embodying tradition but not enslaved to it. It is jointly run by Stéphane Marcuzzi, who was with Guy Savoy for fifteen years, and Aymeric Kraml, with an impressive list of credits including Bocuse, Ducasse, Bardet and Piège. The fact that restaurateurs with such a pedigree choose these days to open modest unpretentious establishments of their own rather than climbing the Michelin ladder to the stars benefits us all.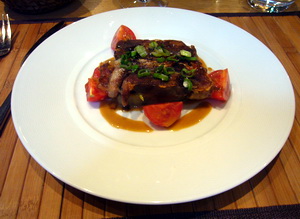 For such high standards, the fixed menu prices (22/28€) are extremely reasonable. The crusty pig's snout and ear [left] was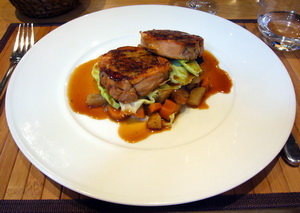 memorably rich and succulent. The rabbit [right] was "en porchetta" – cooked stuffed with its own entrails like a piglet – and served on a generous bed of cider-cooked vegetables, not so common in French restaurants as it ought to be. Two extremely tasty, meaty dishes that I could eat every night for a week without tiring of them.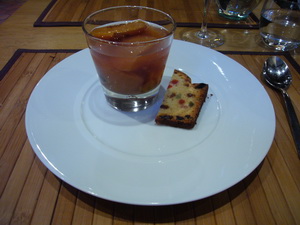 Only the soupe de pêche was disappointing – the peaches were unpeeled and still hard.

My waiter seemed a mere lad, but was thoroughly competent and agreeable. The only depressing thing about my evening in this admirable establishment was that he made me feel rather old. Perhaps it was my mood – or was it reality finally closing in on me?
L'Epigramme 9 rue de l'Eperon, 6th, Tel: 01 44 41 00 09 Mº Odeon