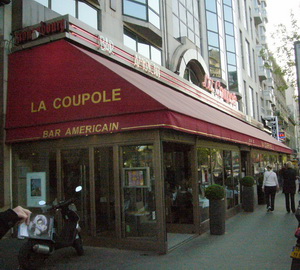 La Coupole is one of several Paris bistros and brasseries that have been saved from oblivion by the Flo Group. In 1926 Ernest Fraux and René Lafon, managers of the Dome, failed in their effort to buy out the owner. They promptly bought the property next door and set out to build the largest restaurant in Paris. Just over a year later it opened to the sound of 1200 popping Mumm champagne corks. (It wasn't enough; more bottles were sent out for in the middle of the night.)
The distinctive art deco interior was the work of Alphonse-Louis Solvet and his son Paul, who had just finished the Closerie des Lilas. A friend suggested that local artists be employed to paint the upper parts of the square supporting columns; he was promptly given the task of coming up with 32 of them, one for each panel.
The name La Coupole was chosen as a witty supplement to its already existing neighbors, Le Dome and La Rotonde. (In 1931 a real cupola was added to the building.) The restaurant was an instant success and its habitueés would eventually include a glittering who's who of artists, writers, politicians and the vast hoard of socialities who were famous for being famous.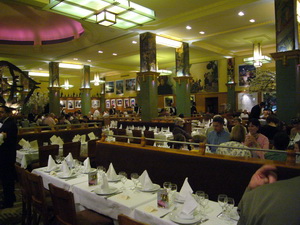 The occupation during World War II was hard on this enormous establishment—imagine heating it in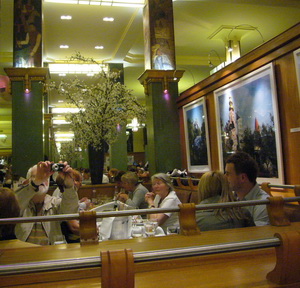 winter!—and after the liberation it was bought for redevelopment. Fortunately the project collapsed and the Flo Group took over the derelict property in 1988 and restored it, complete with the famous art deco chandeliers and the column decorations by ephemeral artists whose 10 minutes of fame has stretched into decades. Huge mirrors make the space even bigger and facing mirrors in one corner [right] stretch it to infinity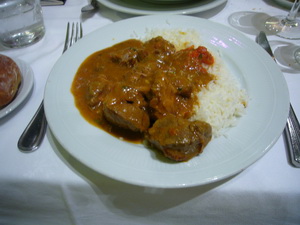 Today the enormous dining room can still be full, but there is a detectable difference in ambience between a glittering space full of equally glittering celebrities and the same space packed solidly with tourists. Service was competant but brisk; our paté and pasta were neither good nor bad enough to enumerate, but the famous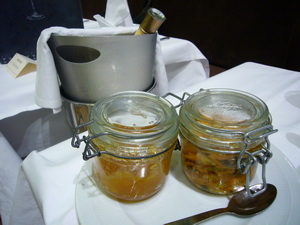 lamb curry [left], which they have served ever since they opened fourscore years ago, was a different matter. It proved to be of a nondescript blandness that would have incited a Brit yob to trash any takeaway that dared to serve it. The condiments were attractively presented, but would have been more characterful straight out of a Patak bottle. This is Indian food for neophytes, carefully restrained so as to offend nobody.
On the whole, a disappointing evening. Perhaps we would have fared better if we had splashed out on the foie d'oie entire, but after experiencing their showcase curry I'm not prepared to gamble.
La Coupole 103 bd du Montparnasse, 14th Arr, Tel: 01 43 20 14 20, Mº Vavin
©2008 John Whiting
Back to the beginning of this review
---