Dating back to his memorable regime at the Hôtel Crillon, Christian Constant has been enriching the Paris gastronomic scene both with the chefs he has trained and with an expanding local empire of his own restaurants gathered within a block of each other on rue St-Dominique in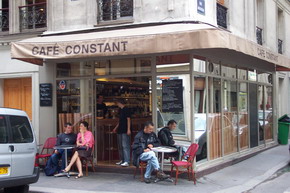 the 7 th. The simplest of these is Café Constant, for which he took over an old neighborhood café and, keeping its prosaic décor, concentrated his efforts on the kitchen. Thus it remains a neighborhood institution where locals can still drop in for a coffee-and-croissant breakfast but may now come in the evening for more ambitious fare including classy plats du jour ferried from his up-market Violon d'Ingres just a few doors away. [His local seafood bistro, Les Fables de Fontaine, has already been reviewed in these pages.] Such a reasonably priced back-door access to an up-market restaurant might well be reserved well in advance by the cognoscenti, but no reservations are taken, and so the locals are still able to pop in whenever they see a free table.
Not being locals, w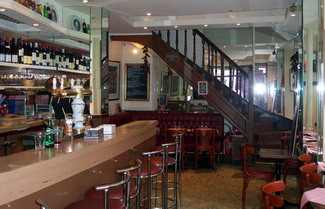 e were able to take advantage of the fact that no civilized Parisian dines before eight, and so at seven o'clock opening we had our choice of a room full of empty tables and opted for a breezy spot near the open door. We had had a long day's walking in hot sun and after five serious meals in three days neither of us felt able to do justice to the menu. What could we face for an entrée? Quail in old vinegar? Country terrine? Foie gras? No way, José! Mary settled on a prosaic salade niçoise and I contented myself with a soothing gaspacho à la tomate. Neither was exiting, but exitement was not what we sought.
Staying with the mild and gentle, Mary continued with a piperade omelette for a main course. She found it disappointing; the peppers were diced so finely as to virtually disappear. My pot-roasted tête de veau with sauce gribiche proved more satisfying. It's a dish so generally unobtainable in Britain that when in France I tend to overdo it.
For dessert, Mary ordered pruneaux au vin rouge, thinking plums; they were of course prunes. She took comfort in the prospect that the next day she would hardly be accused of irregularity. For me, it was back to comfort food: if I were to be shipwrecked on a dessert [sic] island, I would demand that, for ease of rescue, it should have the mobility of an ile flottante.
At the end of the evening, we felt that it was a good neighborhood bistro to which, alas, we had been unable to do proper justice. For his virtue in preserving and improving a threatened café, its eponymous chef should be given credit for being indeed a constant Christian.

Café Constant 139 rue St-Dominique, 7 th, Mº Ecole-Militaire
©2005 John Whiting
Back to the beginning of this review
---