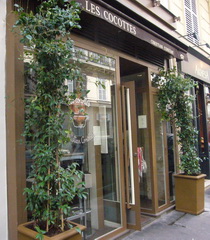 Constant turnaround
Les Cocottes
Christian Constant is taking over rue Saint-Dominique in the 7th to the point where you will soon need a passport to enter. (Remember Pimlico?) The latest addition that everyone is oo-ing and ah-ing about is Les Cocottes, an up-market fast food establishment where everyone from Sarki on down (or up, or sideways) is arriving with an entourage to nibble and enthuse.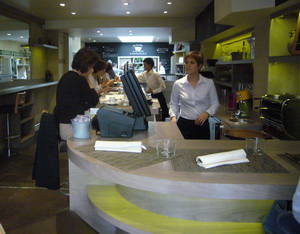 "My clients no longer want to spend hours in a restaurant", says Constant, and Les Cocottes is the apotheosis of rapid turnover (not apple). One long counter accommodates the constant flow of diners, arriving without reservations, seated promptly, served with dispatch and departing with their tummies still rumbling, leaving their seats warm for their successors. Ronald MacDonald, eat your heart out!
The gimmick on which the restaurant is based is the eponymous cast iron enamel oven-to-table casserole designed and manufactured by Austrian Francis Staub. (It is advertised on the carte and in the website so effusively as to remind me of the product placement that has become de rigeur in Hollywood films and TV dramas.) This supplies the foundation of the restaurant's menu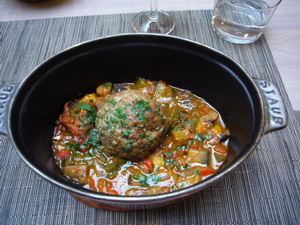 – dishes which can quite legitimately be prepared in advance and reheated on demand.
From my brief in-and-out experience, the food was OK. I opted for two courses. First, a shoulder of lamb confite served on a bed of ratatouille [right] — decent but unmemorable.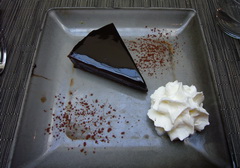 My second and last course, which was dessert—I was well into the hurry-up mode—was the fabuleuse tarte au chocolat de Christian Constant, served with crème Chantilly. It was essentially a chocolate mousse on a pastry base, bland and sweet enough for American tastes.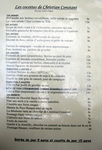 Constant calls his latest establishment "a hip French version of an American diner", but my overall impression was, Joel Robuchon's Atelier on steroids. If I'd eaten such fare in a modest bistro out somewhere in the 19th, I would have found it acceptable, but coming with loud fanfare from the kitchen of the great Christian Constant and served up at a glorified lunch counter, it brought to mind Dorothy Parker's po-faced comment: "There's less to this than meets the eye."
Les Cocottes 135, rue Saint-Dominique, 7th, Mº Ecole Militaire (No reservations, so no Tel.)