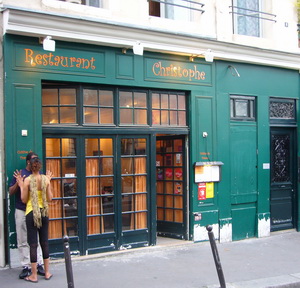 In only a couple of years, the Restaurant Christophe has won a notable place in so many guide books that there's a small table reserved for them by the front door. The first year in Pudlo it went in as a Special Favorite. It couldn't have been for the décor; the walls and tables are Spartanly bare and the façade could do with a bit of paint. When chef Christophe Philippe started this venture after cooking for Savoy and Gagnaire, he was still only twenty-five years old. The fact that this establishment bears his name and is so minimally furnished suggests that it's very much his own.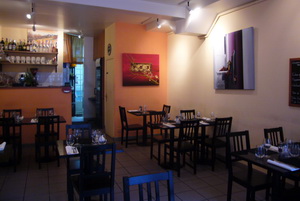 Christophe isn't as cheap as the nearby competion; my two courses came to 32€ (there's no evening menu), while just around the corner my old favorite l'Ecurie is still packing them in with a full menu at half the price. But by the time I'd finished my meal, I would have been happy to pay even more and stand at a counter in the kitchen eating off a plastic plate.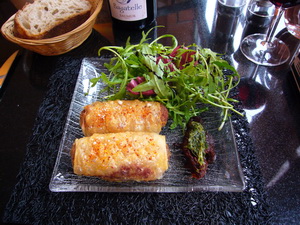 My fortuitous choice for a starter was Cochon basque, ventrèche et boudin, en nems. Cochon basque is the rare pig breed that yielded the pork belly and sausage for this dish. Deep fried in a thin pastry package in the Vietnamese manner, it was delicate in flavor and almost soufflé-like in its lightness — about as far from a boudin blanc as you could get.
Even more remarkable was my main course, Canard de Challans le filet rôti, cuisse confite, compôte de poires et navets. The Challans duck is said to have originated as a cross between wild and imported breeds, dating from the 17th century; whatever its origin, what came from the kitchen was some of the best duck I've ever eaten. In a Guild of Food Writers workshop half-a-dozen years ago, Shawn Hill told us that, because of the enormous difference in texture and toughness between the b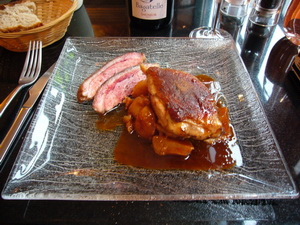 reast and leg meats, his favored method of serving duck was to cook the two meats separately – a quick braise for the breast, long slow cooking for the leg. Christophe carried this to a triumphant extreme: what he served up was slices of very pink deliciously fat-layered breast and a confit of thigh that had been slow-cooked for twenty-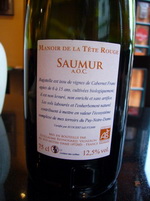 four hours – not sous-vide in a plastic bag, but directly in contact with metal so that the caramelizing maillard effect permeated the entire joint. The thick gravy on the plate was the sheer concentrated juices, tasting only and deliciously of themselves.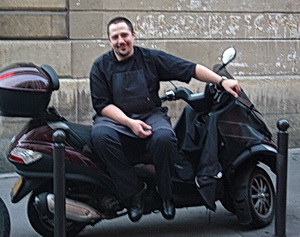 By a happy coincidence, the wine I had chosen to go with my duck was what the chef had recommended on the menu, an organic Manoir de la Tète Rouge Cuvée Bagatelle from Saumur. After I'd eaten, as I was gently lubricating my synapses with the last of this nectar, Christophe came out from the kitchen and took a non-smoking break sitting on his motorbike across the street. (An ex-smoker, he was one of the first restaurateurs in Paris to ban it before the present law came into effect. He put up a cheeky sign which read, "Smoking severely harms the scent of my dishes.") I felt impelled to go out and communicate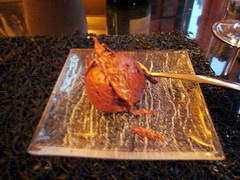 to him in my primitive French, aided by extravagant sign language, that my meal had been truly memorable. He let me take a picture of a deservedly happy man. As a reciprocal gesture, he later sent me a scoop of the Mousse chocolat 75% cacao, crousillant à la praline. It's evenings like this that I come to Paris for.
Christophe 8, rue Decartes, 5th Arr, Tel: 01 43 26 72 49,
Mº Cardinal-Lemoine
Back to the beginning of this review
---