Caves Pétrissans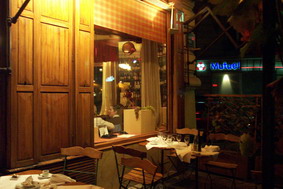 Caves Pétrissans has been going for a century and it shows in the nicest possible way. There's a modest dining room [right] and well-shielded sidewalk tables in warm weather, but its throbbing heart is the bar area where the regulars, some apparently as aged as the establishment itself, turn the air blue with argumentation and Galloises. Definitely a smoke-free area – there's lots of smoke and you don't have to pay for it.
Martin Pétrissans, the Basque great-grandfather of Marie-Christine Allemoz, the present owner, opened it as a wine shop in 1895. The surname is not linguistically Basque in origin, but probably comes from a Latin word that means "St. Peter". The Basques were some of the last Franco-Spanish converts to Christianity in about the 8th century, at which time some original Basque names were dropped in favor of Christian names and surnames. (Although Pétrissans was an emigré, France would not have been totally foreign to him; the Gascon and the Basque dialects share an etymology, and their peoples have a common background and ethnicity.)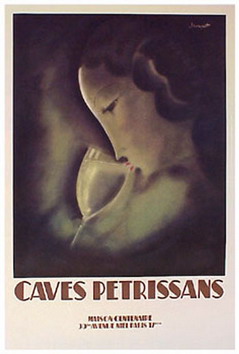 The original retail shop on the corner remains much as it was, with art nouveau light fixtures, patterned tile floor and ancient wooden shelves. Eventually it was expanded to include the adjacent wine bar with its own outside door, the dining room and the sheltered terrace. In the first half of the 20th century it was frequented by such artistic celebrities as Céline, Abel Gance and Roland Dorgelès and dubbed le petit café by the French playwright and satirist Tristan Bernard. In 1996 its centenary was celebrated by graphic artist Charles Loupot with an art nouveau poster [left].
-0-
On a mild early October evening, Frank, Barbara and I could comfortably occupy a table just outside the front door. The caves must indeed be extensive; there were about 600 wines to choose from. In such an establishment I always assume that even the cheaper wines will not be allowed to disgrace them, so I went for a modest Bordeaux at 16€, of which there were several. It proved to be a good companion to our classic bistro fare.
Being very hungry (when am I not?), I began with the pâté maison with olive marmalade. A delicious condiment! If they had sold it by the bottle I would have gone home with an extra suitcase. Barbara enjoyed her caviare of aubergine wrapped in a cucumber slice.
For the main course, Frank, being a steak man, went for the coeur de rumsteak au poivre and Barbara, always fond of fish, for the cod pavé with spinach. My choice was tête de veau, which a guide book had promised would come with an enormous helping of tongue and brains, in a pungent sauce ravigote. There was indeed a generous and delicious sauce, truly "enlivened" with gherkins and capers, and plenty of tongue, but the dish was a no-brainer. Having had lots of little grey cells with my calves' head at Chez George, I wondered at its absence, but thought that perhaps some Paris chefs are more wary of mad cows than others. At any rate, it was so tasty as to overcome my disappointment.
For dessert we all chose clichés that proved to be delicious: créme brulée, lemon sorbet and for me a magnificent île flottante au caramel et à la Nougatine (meringue floating in custard cream topped with caramel sauce).
Our table was next to a window offering a varied selection of barware. Prominently displayed was my heart's desire—a massive Screwpull with handgrips and a lever that removes a cork in a simple up/down operation. For a mere hundred quid I could keep up with the demands of an orgy. Frank took note of my envious remarks and would later send me an incredibly cheap but substantially made and totally functional Chinese replica.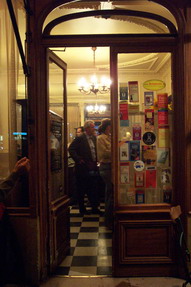 -0-
Caves Petrissans is the sort of establishment that encourages my faith in the survival of real French food and wine. Step inside and you sense the warm flow of comeraderie that brings such people together night after night. Even amidst the jolity, if a bottle, however humble, were not to pass muster, the management would soon hear of it. These people just know – they are collectively the ombudsmen who maintain France's oenological and culinary standards. When the populus contains such vigilant watchdogs, official enforcement is superfluous; when the consumers' own standards slip, regulation is useless.
What a wonderful evening! As we were leaving, I commented at the bar on the missing calves' brains and made a jesting reference to mad cow disease. Madame Allemoz did not smile, but replied evenly that her mother, who had eaten traditional tête de veau all her life, had died of Creutzfeldt-Jakob disease. As I turned several shades of puce, she added magnanimously, "But you had no way of knowing."
Don't lecture me on the rudeness of Parisians!
Caves Petrissans 30, bis, avenue Niel, 17 th, Tel: 01 42 27 52 03 Mº Charles de Gaulle-Étoile or Ternes
©2005 John Whiting
Back to the beginning of this review
Back to INDEX
---