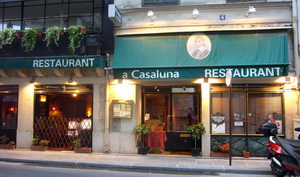 If Corsican cuisine is indeed, as Colette Rosant writes, "as rugged as its landscape," then A Casaluna, in a small street at the end of the Palace Royale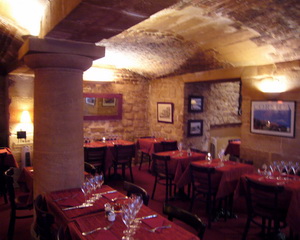 gardens, is a shining example. On an evening in August, when so many Paris bistros close their shutters, I had two simple dishes from their 23€ menu that were so rich in flavor that, eschewing [sic] my usual greedy gobbling, I reverted to the Horace Fletcher doctrine of masticating each mouthful thirty-two times.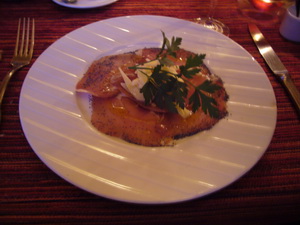 It paid off. My plate of Carpaccio de Lonzu et Tomme Corse [left] was a symphony of cured meat and shaved cheese flavors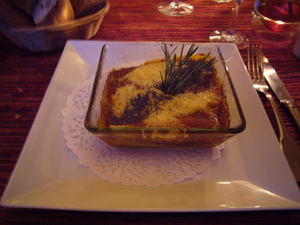 that seemed to alter subtly from mouthful to mouthful, while my Cannelloni au Brocciu et Blettes, Epinards et "Panzetta" [right], combined chard, spinach and pork belly in pasta, swimming in a rich, long-simmered tomato sauce and topped with a strong shaved cheese. I washed it down with a carafe of robust Corsican rouge.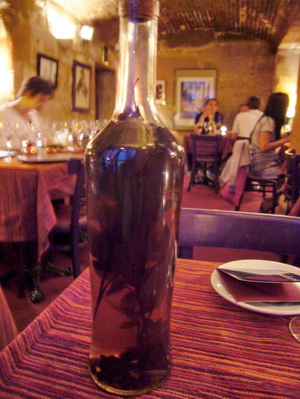 I complimented my young waiter on the honest intensity of flavor in both my courses. "We are all cooks," he answered. "We love our work." And he brought me a glass, together with a bottle of Corsican liquor, flavored with a large sprig of myrtle. He left it on the table.
A carte, with prices, is posted on their website.
A Casaluna 6, rue de Beaujolais, 1st Arr, Tel: 01 42 60 05 11,
Mº Palais Royale
©2008 John Whiting
Back to the beginning of this review
---