Le Bombis Bistrot
This noteworthy neighborhood bistro is so fortunate as to face onto a wide pavement, flanked by businesses that close by six. On a hot night the tables gradually come out until the whole area is occupied by several dozen diners. Barbara and I, being among the first to arrive, had a table just outside the entrance from which we could watch the whole burgeoning process. It reminded me, in a modest way, of George Orick's vivid description of the magical evening appearance of Jakarta's sidewalk restaurants.
When the food arrived we could tell why the pavement was so crowded on a midweek evening. Every dish was out of the ordinary but none were quirky, eccentric or exhibitionist. Their listings on the menu were accurately descriptive rather than rhapsodic and so it's worth quoting them, together with a translation and a few comments. I won't waste superlatives; they would have to be sprinkled like stardust on every course.
Aumonière de chèvre frais et salade de roquette sauvage
Pastry purse filled with fresh goat cheese on wild rocket leaves
Salade de légumes croquants e gambas a l'Indonésienne
Shoestrings of crisp raw vegetables with hot spicy prawns
Croustillant de flètan à l'andouille de Guémenée et girolles
Crusty fillet of halibut with tiny bits of Guémené sausage and whole chantarelle mushrooms
Dorade royale, ravigote aux noisettes et citronelle
Whole pan-fried gilt-head bream with a spicy sauce of hazelnuts and lemon liqueur
Plateau de fromages
An assortment of half a dozen cheeses, all of them unfamiliar to us but excellent and of perfect ripeness
Fondant au chocalate
Melting indeed. Sinfully rich, smooth as heavy whipped cream
Timbale de brugnons au caramel et son sorbet
A low cylindrical mound of stewed nectarines with a caramel sauce and nectarine sorbet.
Barbara was in seventh heaven.
A civilized meal in civilized, unpretentious surroundings. The intervals between courses were correct, the service on this busy evening friendly, efficient and unobtrusive. An ideal occasion to spend with an old friend I don't often see.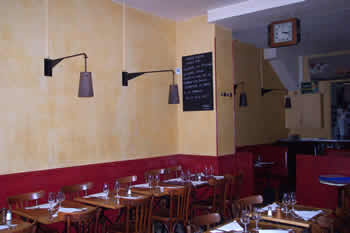 In midwinter Le Bombis Bistrot could be equally salubrious. Aassan Nithsain is a chef who is not afraid to work in full view of the tables. His shiny stainless steel kitchen opens directly onto the dining room - a practice followed only in the best and the worst of eating establishments! Those who have ordered too freely from the excellent but modestly priced wine list - before he was a chef, Nithsain was a sommalier - may stare apprehensively at the ceiling, which portrays a blue sky with flying lambs and pigs. The next time a friend promises to perform an unpleasant task when pigs can fly, take him there.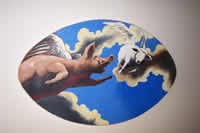 Le Bombis Bistrot , 22 rue de Chaligny, 12th Tel: 01.43.45.36.32
Mº Reuilly-Diderot. Around 200ff plus drinks
©2001 John Whiting
2005 Under new ownership -- no reports.
Back to the beginning of this review
---