A la Biche au Bois



This is a fairy-tale bistro with an inviting exterior, a warm welcome from a charming hostess, a buzzing atmosphere, a well-laid table with proper linen, a 30€ four-course menu full of classic recipes, a fine cheese board and, most remarkable of all, during the gaming season a constantly changing selection, well-prepared and with a minimal supplement. If it were closer to the popular hotels, holiday makers would be reserving tables months in advance!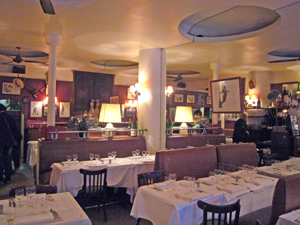 By the time we had finished our meal, diners-to-be were waiting for our places, but there was no effort to speed us on our way. Unlike some fashionable destinations, they had not given us a deadline, nor were we brought l'addition until we asked for it. At the beginning of our meal, there was a young lady from Hong Kong at the next table who was having trouble understanding the menu; the waitress was patiently helpful. You could spend an evening here just looking and listening and then write a textbook on how to run a restaurant front-of-house!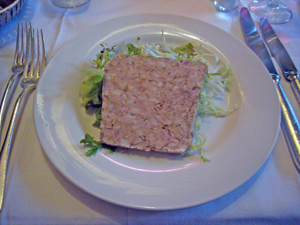 But even in a perfect world there can be glitches. The menu listed Scotch grouse for a 3€ supplement. Terrific! Alas, the offer had gone on the menu a day early. Never mind, I'd happily make do with their coq au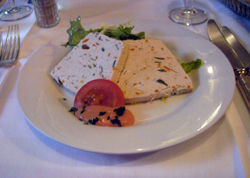 vin. Meanwhile, the slate of the day's specials included a Terrine compagnarde, a coarse pork terrine with visible small pieces of meat. It was a generous slice, fatty and utterly delicious.
Mary's pair of terrines were of two kinds of fish (salmon and white), with small cut vegetables in the mix which made them a joy to the eye as well as the palate.
For a main course, we both chose the Coq au vin. It arrived in an ample Creuset po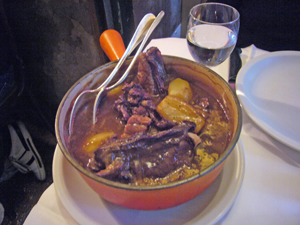 t, with a pitcher of broth on the side. Their version has a great reputation, but we were mystified as to why. If we had never eaten this classic before we would have been moderately content, but this did not have the intensity of flavor that comes from the traditional long slow braising in gradually reducing red wine. In fact the pitcher of broth that came with it hardly tasted of wine at all—more like home-made chicken stock. It was also rather salty. As for the chicken, the breast meat was dry, like a bird that's been cooked too quickly at too high a temperature. And where were the baby onions and button mushrooms? We vowed to make this wonderful dish again when we got home, to remind ourselves of what it should taste and look like.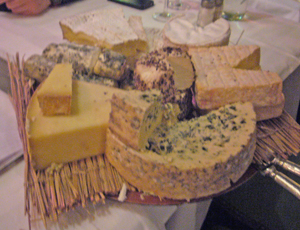 The cheese course put us in better spirits. A proper cheese board is no longer to be taken for granted, even in a Paris bistro. I had a generous helping of Bleu de Causses, Cantal vieux, Pont-l'Évêque and a ripe Chevre, all of them at the point of perfect maturity. It reminded me of Astier, several years before.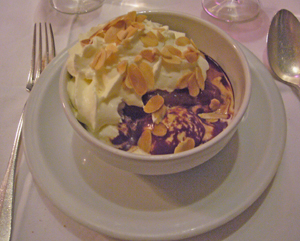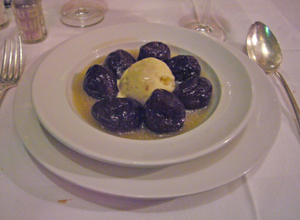 For dessert, Mary chose cooked prunes and a scoop of ice cream, generously dowsed with Armagnac. I finished with a sinfully rich Poire Belle Helen. They were two of the best desserts ever. Pretending that I was at home, I shamelessly cleaned out the bowl with my finger,
-0-
Would we go again? There was a lovely ambiance and it was on the whole such a delightful dining experience that the answer is an emphatic Yes!, especially during the gaming season. However, we'll forego the thin Coq au vin with its superfluous pitcher of broth. Likewise the eccentric Pot-au-feu at L'Avant Gout and the Cassoulet practically everywhere. Why is it that the great dishes in highly recommended restaurants so often disappoint? Is it due to the compulsion of our age to give every time-honored classic the stamp of originality? «Chacun à son gout», comme la vieille dame a dit en baisant la vache.


©2013 John Whiting
---
A la Biche au Bois 45 ave Ledru-Rollin, 12th Arr, 01 43 43 34 38, Mº Gare de Lyon, Closed Sat, Sun, Mon lunch