Je ne regrette rien. . .
Car ma vie, car mes joies
Aujourd'hui, ca commence avec . . .
Le Baratin !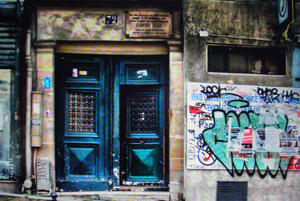 Le Baratin isn't a bistro where you drop in for lunch after strolling through a park. It's in Belleville, a rough, bravely named area of Paris that has now become a fashionable bobo hang-out. (It's happening all over Paris.) If you walk down the hill from the metro to the bistro, you'll pass 72 rue de Belleville, where a plaque states that Edith Piaf was born there on 19 December 1915 sur les marches. A cold coming to a cold comfort—she was soon deserted by her small time show biz parents. The walls have been appropriately decorated by the down-and-out.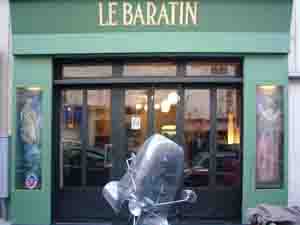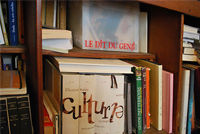 But within a couple of blocks you arrive at a smart façade that assures you that you won't be slumming. Inside it's compact but comradely, with a case of high-brow books occupying one wall.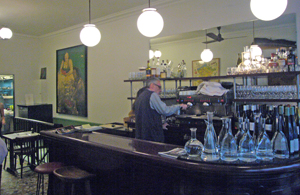 Dining at Le Baratin is worth the hassle, or so think a roll-call of Paris super-chefs who come here regularly on their days off. In fact, most of the diners seemed to be regulars—we felt rather like intruders. A waitress with a big ardoise carried it swiftly from table to table, propping it up on a chair. The other diners had made up their minds quickly and we were obviously expected to do the same. In desperation I photographed it and then tried to read it in selective magnification of the tiny image.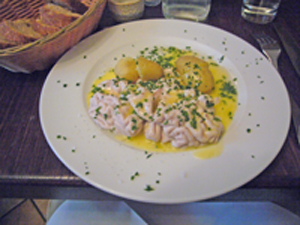 When the food started to arrive, all was forgiven. I couldn't believe the huge helping of poached veal brains in lemon butter [right]—not a tasting menu smidgen but a proper plateful! And it was delicately se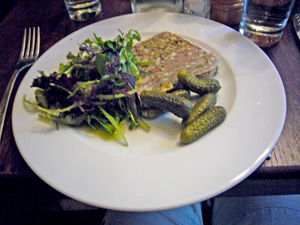 asoned so that the brains did not become merely a medium for the added flavors.
Mary's home-made terrine de champagne [left] was rich with complex flavors and served with a green salad, plus fine little gherkins that I was glad to help with.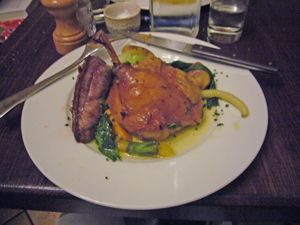 My roast Bresse duckling came cooked in a two-stage process that gave the separate pieces their optimum cooking time. They were served on a bed of luscious grilled vegetables.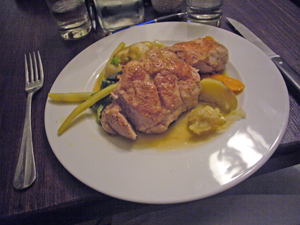 Mary's ris de veau, a favourite of hers, was a special and not on the slate. It was enormous, perhaps the whole gland. Heavenly! It came with a varied selection of small vegetables and a few frittes.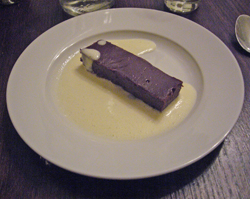 Desserts? If they were up to the same standard, we had to make room for them somehow. Mary's fondant au chocolat [ri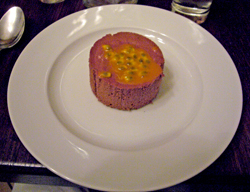 ght] with a little vanilla cream sauce was, she said, "intensely chocolaty—strong and wonderful!" I went the chocolate route as well with a mousse topped with passion fruit [left]. Passionate indeed! I'm tired of that adjective's constant repetition, but that's how we felt about our meal.
-0-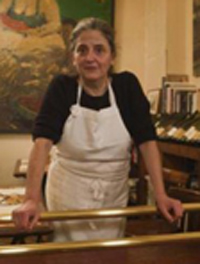 The remarkable woman who has been in the kitchen for a quarter century is Raquel Carena, a self-taught Argentine chef whose broad gastronomic brushstrokes have been compared by Alec Lobrano to those of Grandma Moses. (More consciously skilful, I think.) Front of house all these y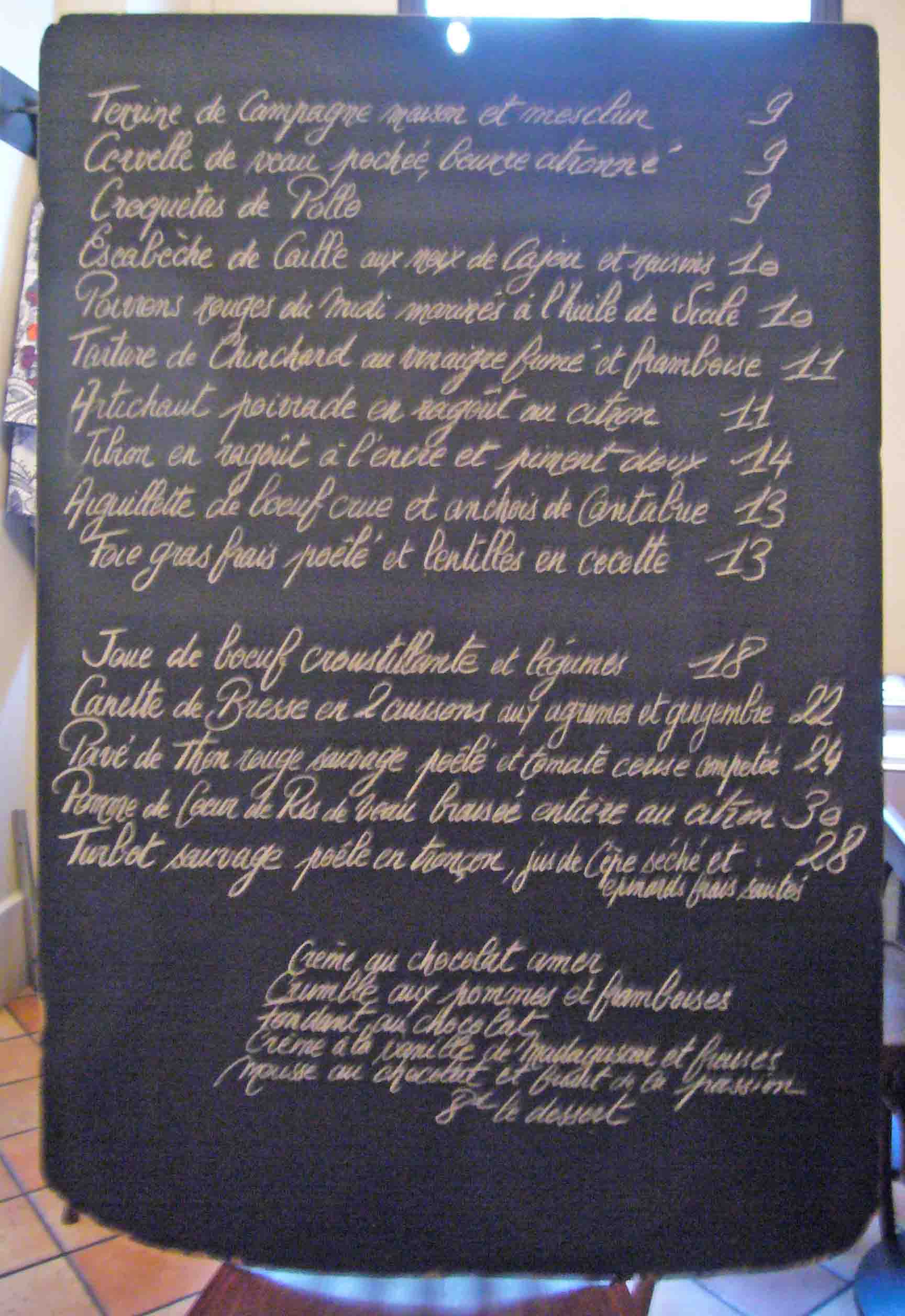 ears has been Philippe Pinoteau, who... well, the most diplomatic comment is Kelly Page's: "...eliciting a warm smile from Pinoteau may be a challenge." Fortunately it was a challenge which Mary and I, tucked away around a corner, were unaware of and so we went away blissfully content.
©2013 John Whiting
---
Le Baratin 3 rue Jouye-Rouve, 20th Arr, 01 43 49 39 70, Mº Pyrenées, Closed Sun-Mon
Click below to stop/restart music