In 2008, L'Astrance has become L'Aspiration. With three Michelin stars under its belt, dinner reservations have become treasures you bequeath to your heirs. This report dates back to the halcyon days when you could drop in unannounced for lunch if you happened to be passing.
When Patricia Wells devotes a lengthy and enthusiastic column in the Her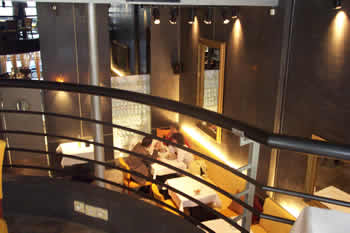 ald Tribune and NY Times to a new, unknown restaurant and proclaims that it is "headed for nothing but success", one tends to pay attention. And when Bénédict Beaugé, a well-respected food writer in his native city, begins a column, "The most important gastronomic event of the last few months in Paris has been, to my mind, the opening of L'Astrance," attention becomes obligatory. A week before their August holiday, an evening reservation was out of the question, but we were granted a table for Saturday lunch. It proved to be the apotheosis of a week's memorable dining.
We don't make a habit of frequenting newly fashionable restaurants, but the sentence in Beaugé's column that made this one imperative was, "I hope that L'Astrance will be a model for a new type of gastronomique establishment - both less expensive and much less formal than we've had in France before at this level." And so on the Saturday we had a modest breakfast and then walked the three miles from our hotel to the restaurant. After a week spent eating for Britain, genuine hunger would have to be fought for.
The restaurant proved to be small and modern, a shrine to classic Bauhaus architecture. But the detail saves it from austerity. There is a small wavy-edged mezzanine across one corner, accessed by a spiral staircase, which extends the capacity by a couple of tables. The walls are pushed back by the common but effective device of several large mirrors, strategically placed. The room is further softened by the mirror frames, which are made of traditional massive gilded molding. Generous spacing of tables results in a seating capacity of not more than about forty.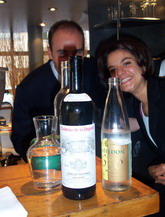 The waiters wear their finely honed expertise gracefully, with an ease and good humor which is usually the end-product of long service and secure employment. The menu cards brought to us followed the discrete custom of much more expensive establishments, omitting prices from all save the host's. This made the unpriced menu slightly difficult to interpret - Mary asked a couple of questions that didn't make sense to me until I realized that her copy made it tricky to determine where a particular menu began and ended. An unnecessary delicacy - unlike certain Michelin stalwarts, a glimpse of the prices would not have driven the considerate guest into prayer and fasting.
My point will be more apparent if I quote the entire menu verbatim. It is in fact very interesting, and provides an opportunity to comment in brackets as we go along. (Like so many modern menus, the listing is ingredient-centered.)

Le Menu de Juillet (servi pour l'ensemble de la table) 370[ff]
L'amuse-bouche [nothing so vulgarly bestial as an amuse-gueule]
[These immediately announced what sort of witty but unpretentious food we could expect. First there was a shot glass of layered sorbet and coconut cream, accompanied by the classic Italian tomato/mozzarella salad converted into a cold soup - tomatoes were skinned, seeded and roughly puréed, then mixed with small irregular chunks of buffalo mozzarella and garnished with dabs of crushed frozen basil. It worked a treat.

And there was a later divertissement which Patricia Wells describes perfectly: "The plumpest, most moist mussels are embellished with butter and dotted with a mixture of chervil and breadcrumbs, and set on a tangy mixture of carrots and cumin."]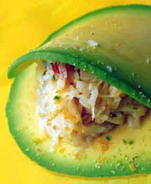 Le crabe
en fines ravioles d'avocat, huile d'amande douce

[This consisted of a couple of small portions of hot spicy crab sandwiched between two paper-thin slices of avocado. It sent Patricia Wells into paroxysms of ecstasy. See below.]



La langoustine
dorée, figues et crème de géranium

[A small helping of cold salad made up of chopped crayfish tails, John Dory, figs and - geranium cream?!]

Le rouget
mousseline de citron jaune, oignons doux et verveine [Thin lightly fried fillets of red mullet served atop a hot mousse of onion, lemon and verbena. Mary was so taken with this that she asked how it was made, and learned that the whole lemon was used, to stunningly sharp effect. They also brought us a leaf of fresh verbena to sample.
This exquisite union was flanked by a salad of finely shredded carrot and tiny specks of hard-boiled egg lightly flavored with vinegar.]

At this point we were served an unannounced but welcome mouth-cleanser in the form of a light-coffee-coloured soup - consommé de pain grillé - which we learned, on further enquiry, was made of chicken stock, bacon and toasted breadcrumbs which had been blended, strained and whipped to a froth. More frantic scribbling in our notebooks.

Le pigeon
cuit au sautoir, huile de quiquina et fruits rouge

[A half-pigeon was boned except for the leg and sautéed to perfection in the traditional enclosed pan. It was served with strawberries cooked in oil flavored with quinine. For me this dish was truly the keystone of the menu's arch.]

Le piment
en sorbet à la citronelle

[Sweet pepper sorbet flavored with lemon liqueur. By this time I was so won over I would have tried raw oysters with chocolate sauce.]

Les fleurs
en sorbets aux fruit

[A final arrangement of mixed summer fruits: blueberries, raspberries, strawberries, and blackcurrants, together with a sharp sorbet]

Les mignardises

[These were madeleines of an exquisite insubstantiality that would have sent Proust back to his inkwell. They arrived just before the coffee, which was accompanied by two half-eggshells full of eggnog. The latter were served to us, of course, in a papier-mâché egg carton! (How long before an inspector declares them unsanitary?)

Finally, we should add that the portions of these fourteen [!] separate items were so modest that we went away feeling that we had had exactly enough to eat.]

Amidst such culinary glories, the lunchtime atmosphere was hushed and reverential. Conversation was subdued; there was no music and, surprisingly, no ashtrays. We felt as though we were in the company of attentive devotées of the food itself, which was both serious and light-hearted. The air of conspiracy was further heightened by the waiters' occasional invitation to our neighbors at the next table, whom they apparently knew from a previous visit, to guess the contents of the unnamed dishes and also the recommended wine, which was served with the label concealed. No put-down for error - just a light-hearted game without shame. There is in fact a surprise menu at 430ff in which *everything* is unidentified. That's for our next visit in October. (Our neighbors, incidentally, proved to have come for the purpose of writing it up for a web site. We all fantasized about whether the other tables were also occupied by restaurant critics.)

How has such an unusual new Paris restaurant become such an instant success? Aside from its obvious excellence and reasonable charges, a vital component seems to have been the generosity of its founders' former employer, Alain Passard of the pre-eminent Arpège. According to Wells, he not only urged Christophe Rohat and Pascal Barbot to lash out on their own, but gave them his mailing list of 500 loyal diners. Inherent excellence plus free precisely-targeted publicity - they could hardly lose!

It's also bang up-to-date. The "ravioli" is a witty illustration of the modern culinary tendency to imitate the form rather than the function of traditional recipes. Two thin slices of avocado, not actually meeting at their edges, do not give the protection to the ingredients that is provided by a pasta case - you couldn't drop this pseudo-ravioli into boiling water and cook it, the seal protecting the filling from dilution. In fact, the filling is not sealed in the manner of a ravioli but merely sandwiched. A few days before at La Folletterie there had been the breast of chicken sandwiched between outer slices of aubergine, domed like a burger bun. Both reminded me of the New York Union Square Café's celebrated tunaburger - a pop-art nod to the archetypal American meal.

Another vital factor is what Beaugé refers to above - the filling of a gap between bistro and haute cuisine. Michelin-starred chefs who have attempted this in the past have gone all the way down-market, in image as well as cost, to declare their new-found proletarian identity; but L'Astrance preserves an ambience of scaled-down elegance.

The end result was for us a stunning new gastronomic event, as remarkable in its own way as one's first exposure to an exotic and sophisticated foreign cuisine - or to the legendary Dali-esque El Bulli in the Catalan hills. As for the price of the menu, it is already climbing. The 265-franc menu has reached 370 francs in a few months and, in the new season, may escalate like last year's dot.com stocks. Make your reservation for September while it's still a bargain as well as a unique culinary experience.

Patricia Wells' review in the NY Times/Paris Herald Tribune is available at http://www.patriciawells.com/reviews/iht/2001/2601.htm

L'Astrance, 4 Rue Beethoven, 16th, tel: 01.40.50.84.40; fax 01.40.50.11.45 M° Passy

Closed all day Saturday, Sunday, Monday; various holidays.

©2001 John Whiting

In 2008, the menus are 70€ and 120€ (lunch), 250€ (dinner, wine included).

----------------------------------------------------------

May 2008: If you wish to experience L'Astrance, not as somewhere to get a fine meal but as a postmodernist deconstruction, go to the learned pages of eGullet.

Back to the beginning of this review
---