Thought for Food
L'Assiette
L'Assiette means a plateful; it also means an attitude, physical or mental. It was therefore an appropriate bistro in which to get together with John Talbott to discuss the future of the Paris restaurant scene.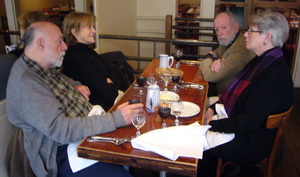 Our table included John and his wife Susan, plus my hosts for the week, Frank and Barbara. John immediately gave us the benefit of his Paris nous by asking if there was a table d'hote. (None was listed on the carte.) There was; it saved us each about 15€.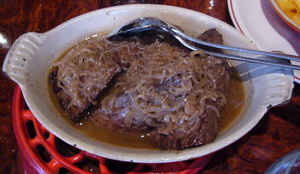 The dishes available on the set meal were standard fare, competently made. My own choices included a pot of mackerel rillettes and a piece de boeuf smothered in onions, with buttery potato purée on the side. (The photo is of a helping for three.)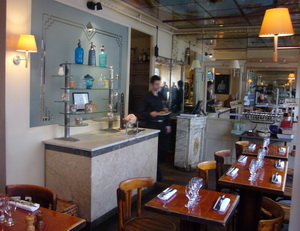 It was perhaps ominous that our luncheon, organized to discuss the state of Paris' restaurants, took place in a well-established and popular bistro which at Sunday lunchtime was almost empty until later in the afternoon when we were about to leave. If I had recorded the interview with John while we were waiting for our first dish instead of after the meal, the ambience would have been virtually as quiet as a studio. During my whole trip, out of ten venues in six days, with reservations made for each at the last minute, only the Thai restaurant Erawan offered any time restriction.

Our recorded discussion (you can listen to it here) displayed a cautious optimism which, by the time you hear it, may well prove to have been unjustified.
L'Assiette 181 rue du Chateau, 14th Arr, Tel: 01 43 22 64 86, Mº Alesia
©2009 John Whiting