May 2007: Second thoughts, strongly positive! See below.
When choosing a restaurant, one of the questions you might ask is, what is the social ambience – is this a place where I could enjoy a long conversation? A favorable answer may be in inverse proportion to its culinary pretensions. For instance, a quiet little bistro whose food is unfashionable is more likely to offer an underpopulated venue free of both auditory and atmospheric contamination. If you're content with a decent coq au vin or boeuf bourguignon you may talk away the evening without once having to raise your voice or fan the smoke.
Paris is full of discriminating diners looking for a bargain, and so the best of the new bistros opened by aspiring young chefs are soon bursting at the seams. Now that so many of us Americans are staying at home – deluding themselves that they are safer on their own gun-strafed streets than in the air – the proprietor of a successful bistro may feel obliged to maximize his turnover while he is still fashionable.
L'Ardoise has won plaudits from Michelin, Gault-Millau, Time Out, Patricia Wells, Zagat, Great Eats, Emmanuel Rubin, the Hamburger's Bistros of Paris, and even Jeffrey Steingarten, and so ex-Tour d'Argent chef Pierre Jay has been free to set the tone of his restaurant well into the future. Foresaking the upmarket predilections of his apprenticeship, he has opted to keep his prices low and maximize turnover in the Spartan surroundings in which he started.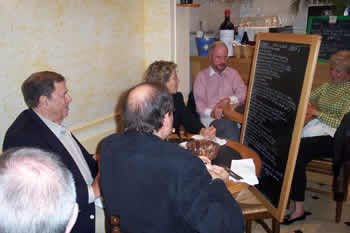 On a Sunday night in late October I found the bistro overflowing with parties of intrepid Americans whose questions and comments suggested the coach tour rather than the Grand Tour. They were being bravely served by an army of pretty girls whose breathless demeanor and vague knowledge of the menu indicated that they had not been long on the job – successful graduates, perhaps, from a fast food chain.
True to its name, the bistro's offerings were chalked onto large closely-written slates. My first choice, bisque de crustaces, was dark brown and intense with the flavor of shellfish, though lacking croûtons. As soon as I got through it the bowl was whipped away and my next course set down, Saint-Pierre roti entier et fenouil confit. The fish was fresh and the sauce well reduced and compatible, but the dish was barely warm, indicating that it had been completed well in advance of my finishing the soup. If I had lingered rather than tucking in with the determination of a lone hungry diner, the fish would have congealed before it reached me
For dessert, soup de raisins et framboises had sounded appealing. What actually arrived was crème brulée. I didn't bother to point out the error – it was in fact a perfectly good crème brulée and I didn't want to make trouble for the waitress, who was agreeable though harrassed. Coffee? I decided to find a cheap joint where I could sip it at the bar, confident that I wasn't delaying a hungry couple standing outside.
As I left there were indeed several parties waiting, among whom I heard the first fluent French of the evening not spoken by a waitress. "Danger!" I exclaimed, pointing through the open door. "Tous américains!" They smiled indulgently.
L'Ardoise 28 rue du Mont-Thabor, 1st Tel: 01.42.96.28.18 Mº Concorde
© 2002 John Whiting
---
May 2007: After a couple of hours joyfully spent in the Tuilleries Orangerie, Mary, Frank and I set out in search of a late light lunch. L'Ardoise was nearby, so I suggested that we give it a try. It was close to closing time and almost empty. The restaurant serves only set meals, but Mary asked if, considering the lateness of the hour, it would be possible to order single courses. Somewhat to my surprise, the answer was affirmative.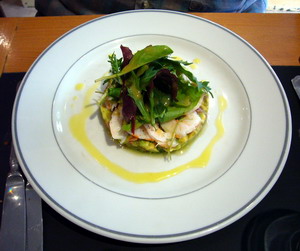 From the blackboard, Mary ordered a seafood bisque, Frank an avocado/prawn starter, and I a main dish, escalope de veau. The soup was strongly flavored and delicious. Frank's dish proved to be layered and dressed slices of avocado and prawn built up in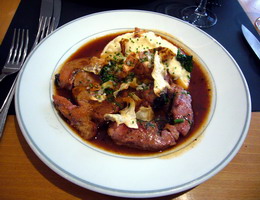 a mold and topped with a few leaves, an imaginative and tasty variation on an old cliché.
My veal was a triumph—cooked to perfection, swimming in incredibly rich gravy and served with a potato purée that I would swear to be at least close to Robuchon's legendary benchmark at Jamin in its glory days. A scattering of crisps on top added a touch of crunchiness. Rarely have I enjoyed a meat dish so much, partly because it was so unexpected.
The final shock was the bill. The three of us, having collectively eaten two starters and one main course, were charged only the normal 32€ for a single three-course dinner. What magnanimity! We hadn't even ordered wine or mineral water. In a state of stupefaction, I added rather more of a tip than was appropriate and our little Japanese waitress brought it back, thinking there had been some mistake.
L'Ardoise goes on my list of bistros well worth a return visit.
Back to the beginning of this review
---