Ambassador of Good-Will
L'Ambassade d'Auvergne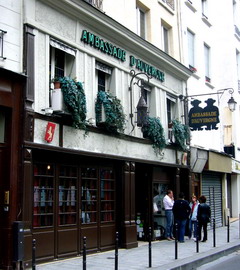 Way back in prehistory—well, the last century at least—when Electric Phoenix were performing at IRCAM, I escorted them for Sunday lunch to a favorite rustic bistro, L'Ambassade d'Auvergne. The inevitable choice of menu was their
"QUE RÉGIONAL" 28€
Salade Tiède de Lentilles Vertes du Puy
ou Terrine de Lapin aux Mousserons
*****
Mille-Feuille de Chou Farci
ou Magret de Canard rôti & Aligot
*****
Dessert au Choix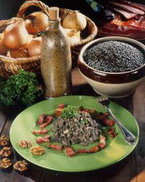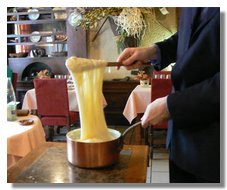 If you choose the very first option [left], a generous bowl of green puy lentilles, tossed with bacon and shallots and smothered with goose fat, will be left on your table. A single taste will tempt you to empty it before the next equally generous course arrives. This should wisely be the duck breast with aligot, [right] a mixture of potato purée, garlic and fresh cantal cheese which is whipped up by an energetic waiter until the elastic threads follow the spoon high into the air.
Ever since that memorable occasion, I've been promising Mary that I would take her for a repeat performance. Alas, we lingered too long in Galeries Lafayette and by the time we arrived for lunch the kitchen had shut down. Our goose was well and truly cooked.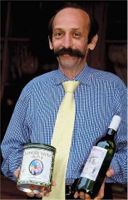 But all was not lost. The generously mustachioed maitre'd—the same who had been in charge my last visit—took pity on us and directed us to Le Bouledogue, a nearby brasserie which proved to be an invaluable discovery for anyone wanting good traditional French food in this neighborhood at an awkward hour. (I was certain that his recommendation would be reliable, for in his buttonhole he wore the golden snail of Slow Food.) I review it enthusiastically on another page.
L'Ambassade d'Auvergne 22, rue de Grenier-Saint-Lazare, 3 rd arr,
Tel 01 42 72 31 22, Mº Rambuteau
©2007 John Whiting
Back to the beginning of this review
---