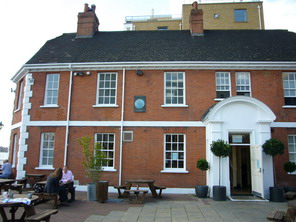 Gordon Ramsey has opened a pub in Limehouse. You might wonder whether that's the right venue for his talents, but don't worry—he's a cultural cameleon who can provide posh nosh at Claridge's and loads of El Bulli for yuppies at his Mairfair maze. And now it's a straight-up, no nonsense pub/restaurant in the rapidly gentrifying docklands, so spot-on that it threatens to give gastropubs a good name.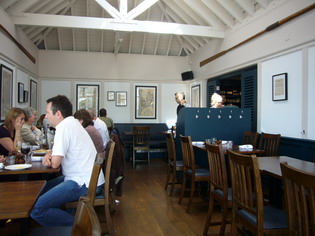 The Narrow has been through several incarnations as a local, but its new identity is bringing in so much trade that, at least at lunchtime, advance reservations are required. Gordon Ramsey's name attached to affordable food may pull in the punters th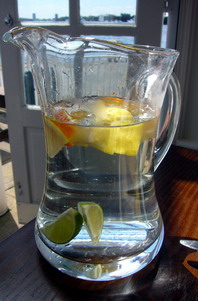 e first time, but it's what comes out of the kitchen that will keep them coming back. A look at the menu [below] shows that there's a sensible short selection, from the mundane to the more adventurous.
Before ordering beer, we asked for tap water and were brought a work of art—an attractive pitcher with slices of fruit, some floating, others sunk to the bottom. The afternoon sun brought it splendidly alive.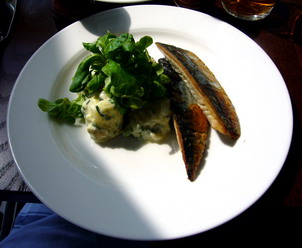 For a starter, Mary opted for the roast sussex tomato soup. I had read an ecstatic report of the grilled dorset mackerel with potato salad, which lived up to expectation. I don't normally eat mackerel skin, but this had been properly scaled and was so tasty as to warrant a bit of dedicated chewing. The flesh was utterly fresh and perfectly cooked—moist and flaky.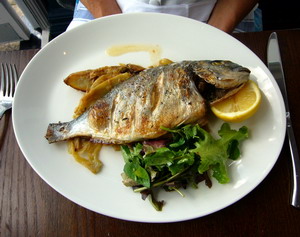 For a main course, Mary and I chose respectively the whole baked gilthead bream with fennel and watercress and the braised gloucester pig cheeks with mashed neeps. The bream reminded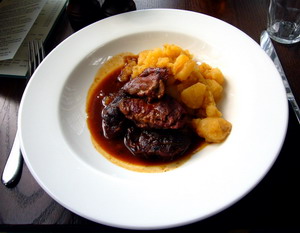 me of a much larger one we had shared in the Basque fishing port of Getaria, rubbed with olive oil and salt and grilled in a rack over an open fire. As for the pig cheeks, they were slow-braised to succulent perfection. We shared a small green salad; side vegetables and potatoes were extra but not needed—there was plenty on the plates.
The wine list is short and undetailed, but the bottled beer list runs to four pages, with lengthy descriptions that have been ridiculed as pretentious. I don't mind the prose so long as the beer is good, and this is an admirable selection of British real ales and Belgian Trappists, with a smattering of Australian, German, Czech, Italian and Mexican. I went for one of my favourites, St. Peter's Organic Ale. A wonderful beer – it could not be better if it were brewed by the good Saint himself!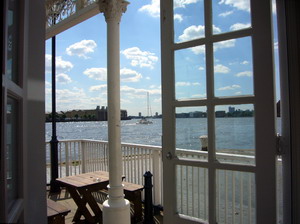 Our table was next to glass doors that opened out overlooking the water, a view made more agreeable by the fact that the Thames is here so wide that the buildings on the opposite shore can scarcely be seen. In the adjoining Limehouse Marina, the picturesque river barges and small yachts must share the view with a row of unforgiveable apartment blocks that think they are ships, their monstrous pseudo-prows projecting agressively against the skyline. In the distance the spire of St Anne's Limehouse, a Hawksmoor masterpiece, stands in solitary reproof of yet another wasted architectural opportunity.


The Narrow 44 Narrow Street, London E14 8DP Tel: 020 7592 7950
DLR Limehouse
©2007 John Whiting
---