CLOSED, THANK HEAVEN!
2007 Both the current Pudlo Paris and Time Out Eating and Drinking in Paris speak highly of Alain Carrère's cuisine. The latter guide refers to the 'slightly officious' service, but that's a big step up from our unhappy experience.
An October 2008 report reads: . . . the attitude of the hostess and servers was awful - the worst of what one hears about Parisians: curt, abrupt, rushing us to finish, taking away table items before we were finished. Sounds familiar.
---
Not just the oak was fuming . . .
Le Pamphlet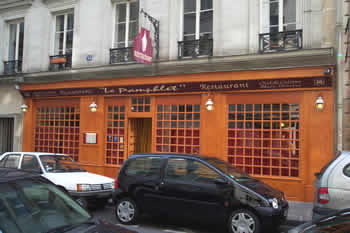 Le Pamphlet is housed in an old-fashioned space with dark quarter-sawed oak wainscoting and chairs. Also known as fumed oak because of its swirly patterns, this wood was once very popular with the frugal bourgeoisie on both sides of the Atlantic. Its comb grain, going across the rings, made it ideal for functional furniture, which gradually turned very dark and lasted forever. (Noel Coward thought it so metaphorically redolent that he made it the title of a play.)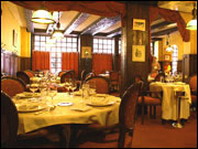 When we ate there on Thursday evening, the sombre décor seemed to have affected the staff as well. Smiles were in short supply. We were only the second party to appear, but we were shown to our place with perfunctory haste, a pattern that would repeat itself throughout the evening. The arrival of a Le Parfait jar full of paté held promise of amplitude but the meat itself was of a disappointing blandness.
Not so the rest of the meal. My starter was a small round courgette stuffed with shredded lamb, a tough flavorful cut that had been cooked thoroughly into submission. Neither courgette, meat, nor the accompanying lightly dressed salad leaves were in themselves particularly exciting, but they went together into a whole which came alive and was mutually complementary. Score one for the chef.
No sooner had we finished than the plates were whipped away and the waitress brought the silver for the next course. "Fish?" she snapped with perfunctory abruptness. We decided that this was not simply the French mode d'addresse for a Whiting and indicated where to leave the fish knife. She plopped it down and moved quickly out of the way of the next course, already winging its way towards us.
No fault to find with my skate, cooked in butter with capers in the classic method and served on a bed of fresh young broad beans which were nothing short of perfection. Mary's guinea fowl, however, betrayed the unseemly haste with which it had been prepared. Cooked at the edges, it was utterly raw and translucent near the bone - the makings, had we felt adventurous, of a perfect pintade tartare. Our experience thus far did not encourage us to risk a complaint.
We had been asked to select our dessert at the same time as our other courses. Apparently this was because the staff - both kitchen and front-of-house - were racing against the clock. Mary's excellent roasted peach and my fruit salad arrived almost in time to serve as condiments to our previous course. No longer eager to linger, we got into the proper spirit, polished off our dessert in record time and were able to return the spoons to the dishes just in advance of their hasty removal.
Coffee at night keeps Mary awake so she asked for her preferred alternative, which restaurants can often supply.
"Do you have drinking chocolate?"
"No!" the waiter snapped, as though it were the silliest question he'd ever heard.
"Do you have decaf?"
"Yes!"
"Do you have hot milk?"
"NO!" in thunder.
"Cream?"
"Yes."
After this rapid game of Twenty Questions, my café noir arrived immediately together with Mary's decaf, to which a tiny blob of cream had been added. While we were debating whether to risk a thunderbolt by asking for a pitcher, l'addition was slapped on the table - unrequested. It made us so angry that we asked for a jug of milk and gloated that it was too late to charge us for it.
What would a psychiatrist make of the fact that the pictures on Le Pamphlet's walls are devoted exclusively to bull fighting? From the time we entered the ring to the moment the coup de grâce was administered was just under an hour. In that brief interval, actively prodded [sic] by the management, we had undergone an entire corrida from the paeillo to the suerte suprema, including along the way an appetizer and three courses plus coffee. The mâitre d' was awarded two tongues and a palate.
Do you think we'll rate a mention in Mundo Taurino?
Le Pamphlet 38 rue Debelleyme, 3rd arr. Tel: 01.42.72.39.24
© 2002 John Whiting