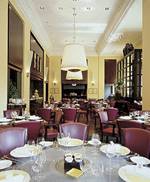 At St. James, London's new Sofitel hotel, Albert Roux has lent his name to their "brasserie". A typical plush hotel dining room, it bears about as much resemblance to an authentic Paris brasserie as one of Watteau's shepherdesses to a genuine peasant. But the atmosphere is congenial, the tables generously spaced out and the cocktail pianist out in the lobby is scarcely audible.
The brasserie-type dishes on the menu are listed in English, so it took an attentive reading to determine what they might be. Fish soup was straighforward enough and proved to be a perfectly respectable version with an uncompromisingly fishy flavor; but instead of a hot spicy rouille, it came with an aîoli in which the garlic had been carefully minimized. The end result lacked the kick of chili that gives a soupe de poisson its proper authority.(In all fairness, this often happens in Paris.)
For a main course I chose a pig's trotter, which arrived accompanied by good shoestring potatoes, plain French beans and a small pitcher of sauce bearnaise which was rather bland and slightly cooler than mouth temperature. The trotter was heavily breaded and deep fried, but cooked for such a short time that the small amount of meat could hardly be cut from the bone, let alone the cartilege holding it together. Knife and fork being useless, I tore it apart with my bare hands and chewed the bones one by one; but with so little cooking they yielded very little flavor and were hardly worth the effort. When a waitress came by and asked whether things were to our satisfaction, I felt compelled to tell her in the nicest possible way that the meat was drastically undercooked. She immediately offered me another course to replace it but I declined, saying that it wasn't worth the trouble. No unpleasant words were spoken on either side. Taking note of my grubby fingers, a waiter brought me a finger bowl, ice-cold to the touch. It's a small matter, but a finger bowl should be somewhere close to body temperature – a splash from the hot tap would have corrected it.
For desert I requested a simple cassis sorbet. It was creamy and bland, lacking the mouth-cleansing sharp edge that I so look forward to at l'Ecurie, my favorite Paris hole-in-the-wall.
Final verdict: A harmless, inoffensive place, not outrageously expensive (my share of the bill, including coffee and a third of the bottle of wine came to £30 before my main course at £8.50 was deducted). But it's a brasserie in name only, emasculated for the anonymous international market. I was reminded of the title which Samuel Hoffenstein once gave to a collection of his poetry: "Poems of Passion, Carefully Restrained so as to Offend Nobody".
Brasserie Roux, St. James [Sofitel], 8 Pall Mall, London SW1Y 5NG, Tel 020 7968 2900
©2002 John Whiting
Return to LONDON INDEX