"Most of us who cook for a living are in the entertainment business…" writes Shaun Hill in his latest book, How to Cook Better. At his late lamented Merchant House, I always felt that I was indeed being entertained, but as an adult. If music be the love of food, then Shaun's themes, as befits a Greek scholar, were unequivocally classical—the only pop to be heard was an occasional champagne cork.
For his rave re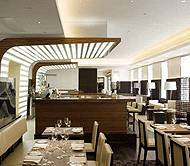 view of maze, Gordon Ramsey's latest venture, Shaun seems to have lowered his brow. As we took our seats, the hard rock that pounded unrelentingly in the foreground suggested that it might be intended as a sort of age filter, a mirror image of the Mozart that some urban centres are now using to dispel teenage troublemakers.
But for this pair of golden oldies, there was no lack of hospitality. The young staff were uniformly friendly, without sinking to the syrupy depths of trendy American eateries. The menu was not so Delphic as it was reputed to be—a good thing, inasmuch as our waiter's explanations were made incomprehensible by the ambient noise level. Anyway, we had already decided to follow Shaun's recommendation: the chef's selection of six small tapas-like courses accompanied by a "flight" of three glasses of wine.
The latter arrived simultaneously, suspended in a round silver rack, like a Victorian caster of condiment cruets. This added a small dramatic flourish and made the serving of the wines less labour-intensive, but by the time we got to the second glass of white it was already too warm. When we finally reached the red, a soft pinot noir which should have been at least slightly cool, it was unrewardingly close to body temperature.
This day's selection coincided at several points with what Shaun had been served. Our first course, the marinated beetroot, Sairass cheese, pine nut and cabernet sauvignon dressing, came attractively presented in three little mounds. The flavors were intense but well-married; it was an inventive dish that recalled our first experience of l'Astrance in Paris. Taste-wise it was reminiscent of a cold beet borsht with sour cream; one could make it at home with only a rough approximation of the ingredients and it would still be pretty good.
The second course, lightly sautéed slices of curried scallop with an applesauce purée, was a bit anticlimactic. Nothing wrong with it, but I couldn't help comparing it in my mind with the richness and intensity of flavor of the plump grilled scallops, coral attached, that are served with beurre blanc at la Grille in Paris—traditional, old-fashioned, but truly memorable.
Next came what our waiter declared to be his favorite dish: a broad bean risotto, creamy and perfectly cooked (some might consider it insufficiently al dente, but not me), with mashed soft beans plus a few still holding their shape and a few peas. Risotto rarely comes much better than this—our waiter had good taste. It was decorated with a few shavings of black truffle, well enough preserved not to shatter into fragments when poked. When it was dug up during the last season several months ago, it probably had some flavor and aroma as well. (Like every fashionable new restaurant, maze describes its ingredients as "seasonal", failing to specify which one.)
Our last scheduled pre-dessert course was as good as Shaun had promised—a tender juicy rare-roasted lamb cutlet with lamb sweetbreads dusted with cinnamon, served with Moroccan ras el hanout. (Traditionally this was laced with hashish but not, alas, on this occasion.) It was a tantalizingly small portion, but not ungenerous for the tapas-sized serving it was intended to be. The sweetbread was large enough to provide two genuine mouthfuls of enough substance to reveal how perfectly it had been cooked.
At this point we were offered the option of stretching our total number of dishes from six to eight. When we were told that the extras would be carpaccio of tuna and swordfish, followed by quail with foie gras, we accepted.
Meanwhile, the loud pop music was becoming ever more aggressively unpleasant. The ambience was sounding less like Gordon Ramsey, more like Rat and Ferret. The management has the good sense to prohibit smoking at the table—what about noise polution? Would they allow the occupants of a table to shout at each other?
The carpaccios were paper-thin slices with a well-rounded flavor of sufficient intensity to permeate each little mouthful. They were served with tiny courgette flowers and variegated nasturtium leaves, together with little sweet-tasting flecks of black olive. The only ingredients off-the-scale in both size and flavor were the unpeeled and unblanched cubes of cucumber, so overpowering as to recall Dr. Johnson's dictum: "A cucumber should be well sliced, and dressed with pepper and vinegar, and then thrown out, as good for nothing."
The quail and foie gras with an Iranian black olive purée promised more than they delivered. The quail, like so many farm-bred specimens, tasted of nothing in particular, while the foie gras, though perfectly cooked and meltingly soft, did not stimulate the taste buds with the intensity we had recently experienced in more than one Paris bistro.
Meanwhile, two delicious-smelling little chunks of grilled salmon were brought to the two men at the next table. The waiter poured a little pitcher of sauce over them (the salmon, not the diners). When the skins were removed, most of the sauce ended up clinging to them inedibly at the edge of the plate. Why not just leave the pitcher unpoured at the table? This wasteful little ritual must be carried out dozens of times a day; someone should stop and think about it.
Finally, there were the two desserts, just as Shaun had described them. The first was another reminder of l'Astrance—a shot glass of lemon granita crystals looking like crushed ice but melting instantly in the mouth. Underneath this refreshing acidic barrier were a layer of cream and then of passion fruit and rhubarb jelly, described collectively as "trifle". That noble dish should not be trifled with—lacking its sherry-soaked cake, it would be sadly incomplete. This was cream-and-jelly, a perfectly respectable children's party dish and entirely appropriate in this little assembly—but trifle? One might as well call an unadorned filet steak a tournedos Rossini.
On the side was a tiny madeleine, hot from the oven. It would have benefited from a brief rest; though crisp and well-browned on the outside, it was still damp and doughy in the middle.
The final dessert was as Shaun described it—pineapple carpaccio with ginger lime syrup, coconut sorbet and pink peppercorns. The crisp paper-thin disk of pineapple disappeared in the mouth like a puff of smoke, leaving a disembodied residue of flavour. The imaginative and satisfying little tower was topped with a tiny crystallized coriander leaf.
We didn't stay for coffee—by then all we wanted was to get away from the pounding music. We came home to a final dessert consisting of a few windfall plums from a neighbor's tree, stewed that afternoon with a bit of sugar. They had a complexity and intensity of flavour beyond anything else we'd eaten that night. Furthermore, they were transcendently local, seasonal, organic—and free.
All-in-all, it was a good meal, but not outstanding, let alone memorable, such as we had experienced on our first visit to l'Astrance in Paris. I don't always demand the "wow factor" that so many jaded palates seem to require these days, but I would expect a chef who had worked with Ferran Adrià at el Bulli to come up with a few more modest little surprises. These dishes seemed on the whole to be toned down, held back to a level designed not to frighten the punters. A favorite book title comes to mind: Poems of Passion, Carefully Restrained so as to Offend Nobody.
The sad fact is that no single dish stands out in our memory so vividly as almost everything we ate a couple of weeks ago in a succession of modestly-priced Paris bistros. Closer to home but further back in time, I was much more excited by the shock of the new when I first ate at Diwani Bhel Poori, the newly-opened Drummond Street café that was the first in London to serve Gujarati and South Indian vegetarian dishes. In the thirty years since then it hasn't changed one iota—it doesn't have to, because the dishes are classic street food that had reached maturity long before the restaurant opened. Ten quid will still get you a great sampling menu from their list of starters.
Am I being too hard on a restaurant in which agreeable waitstaff served us an imaginatively conceived, meticulously constructed and artistically presented menu degustation at half the usual tarrif? I would be less critical if Maze were not being touted as the hottest new dining spot in town (and if my eardrums weren't still ringing). Maybe it embodies the pick-and-choose future of fine dining. Shaun Hill calls it "the most exciting new restaurant of the year". It will likely end up long-listed in some British trade journal with an Altzheimer memory as one of the World's Zillion Greatest Restaurants. [Sure enough, in 2006 it got a Michelin star.] In the kingdom of the blind…
Maze, Marriott Hotel, 10-13 Grosvenor Square, London W1, Tel: 020 7107 0000. Open All week: lunch 12 noon-3pm, dinner 6-11pm (Sun, 10.30pm)
©2005 John Whiting
Return to London Restaurants