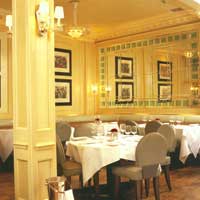 Half a century ago L'Escargot was Escargot Bienvenu. Its menu, hand-written in slightly smudged purple and red ink, was in French. One did not go there for fast food: pour bien manger il faut savoir attendre the menu announced loftily. But if the food was unhurried, so were the patrons: ". . . the principle works both ways and if you choose to linger over your dinner you will be very welcome to do so," says Raymond Postgate's Good Food Guide 1955-1956. My note scribbled in the margin reminds me that I dined on my old favorite, tête de veau vinaigrette, at five shillings sixpence – the princely sum of just over 25 new pence. In those far-off days the only mad cow would have been its inconsolably bereft mother.
Today L'Escargot is part of the Marco Pierre White empire, dismissed by the cognoscenti with the same withering condescension as the clutch of Paris bistros gathered up under the Flo umbrella. Even after Damien Hirst's angry departure from the Quo Vadis partnership, I would still worry about mouton en fluide d'embaumement appearing on the menu. But when the Evening Standard offered a meal at any of White's establishments for a mere fifteen quid, it was too tempting to ignore. Having quickly dismissed the option of an ear-splitting burger at Planet Hollywood, I decided to risk a dejà-vu visit to the Agreeable Snail.
Phoning around, we assembled four old friends who would be happy to join us. Cheekily we decided on a Saturday evening. Could they accommodate us, el cheapos though we were? Yes, providing we came at their six-o'clock opening and were gone by seven-thirty. Only an hour and a half, but it fitted our plans; two of our company had long trips home and the other couple lived close to us and would be coming to our house for coffee. If they paced the courses right, there would be no rush.
So many names survive from those far-off days: Gay Hussar, Ivy, Jimmy's, Mirabelle, Mon Plaisir, Rules, Simpson's, Veeraswamy's, Wheeler's . . . Terrance Conran had just opened perhaps his finest establishment, The Soup Kitchen, just behind St. Martin's in the Field, where shuffling beggars with the few requisite pennies were as welcome as the cheerful students and the trendy bohemians.
L'Escargot's dining rooms will have been often redecorated but the formal, even stately ambience was much as I remembered it. Soho's noisy Saturday night vulgarity, just outside the door, was neither visible nor audible. Glancing around the corner into the front dining area as we entered from the reception corridor, I spotted the table – second along the wall on the left – where I had sat half a century before. The tablecloths were still as snowy as Villon's neiges d'antan and more enduring.
Our own table was circular and near the middle of the rear dining room. Copies of the promotional menu (see below) were waiting at our places. I had expected a limited and prosaic choice, but there were three options for each of three courses, any one of which I would happily have ordered. After working out a sharing deal with Mary I opted for the fish terrine and the osso bucco, Mary for the watercress soup and the skate. In the event, neither of us was prepared to give up more than a taste of our chosen courses.
The cross-section of terrine was attractively layered with slices of salmon and (I think) monkfish, interleaved with blanched sweet pepper and bound with blanched cucumber. The odor and flavor of fresh basil was prominent but not overpowering. A genuine eye- and mouth-refresher, well-presented on the plate.
In contrast, the osso bucco had the richly dense flavor of veal shin simmered long in its white wine/tomato stock (which I could happily have savored forever, a teaspoon at a time). It should have been (and was) accompanied by a creamy herb-rich risotto whose texture was about as good as you get in a restaurant unless you're prepared to help pay the salary of an extra kitchen helper who does nothing but stir.
Mary's thick watercress soup in a shallow soup-plate surrounded a poached egg so neatly trimmed as to resemble a dumpling. When it was broken, creamy yoke flowed out into the green soup.(What? Egg not cooked to rock-hard impenetrability? Call out the food fascists!)
A taste of Mary's skate almost made me wish I had ordered it instead of the osso bucco. The butter was cooked to a deep brown but not burned, the abundant capers had been tamed so that they complemented rather than dominated, and the generous wing flesh came off the bone in a moist consistency that gathered in the other flavors to a cohesive whole.
Meanwhile the waitstaff were modestly in the background, pacing the meal so that our brief ninety minutes was neither rushed nor unduly delayed. Wine glasses were refilled when low but not constantly topped up to empty the bottle so they could suggest another. When one of our party excused herself for a few minutes, a waiter unobtrusively refolded her napkin.
Nothing sensational here – not the sort of décor, food or service to inspire a high-profile medal at a garish award dinner. Just good traditional cooking, quietly attentive service, modest elegance and an ambience that permitted unforced conversation among old friends. "We politely request that all mobile phones are in silent mode whilst in the dining room," it states Jeeves-like at the bottom of the menu. And they follow their own advice – no music blaring (or even drifting) from a phalanx of loudspeakers.
What happens upstairs in the more prestigious Picasso Room? Do tasting menus deluge you with mind-blowing tit-bits? Are the waiters more obsequious? Are the tables further apart? (Not that they're crowded downstairs.) Are you surrounded with chattering would-be celebrities? We'll never know. We're happy below stairs, and we've discovered that the "promotional" menu offered through the Evening Standard is available the year round for only three pounds more. We'll be back.
L'Escargot, 48 Greek Street, Soho, London, W1D 3RS, 020 7437 2679 Tube: Tottenham Court Road
©2005 John Whiting
Return to LONDON INDEX