Sunday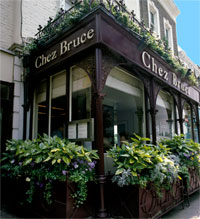 being Mary's birthday, and only a few days away from that of one of her oldest friends, it seemed an appropriate occasion for a meal that would be a total surprise to them both. We all live in the north of London, and far away below Wandsworth Common is Chez Bruce, a favorite of Jonathan Day and a number of other eGulleteers. Accordingly we set out for Sunday lunch, guided by a talking GPS system whose route aroused increasingly contradictory and confused speculations.
Once arrived and seated in the spacious white dining room, our expectations were happily aroused: first by the menu's announcement that "Chez Bruce is a non-smoking restaurant" and then, from the very beginning, by the service. It reminded me of Chez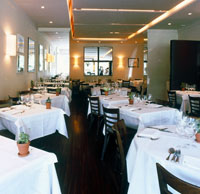 Panisse: informed, courteous, relaxed without being off-hand, friendly without being presumptuously chummy.
And then the food! Mary is not overly impressed by what London restaurants choose to call "French", but she approached it with an open mind. For starters the four of us shared the Salade paysanne and the Goat's cheese crostini. I'm partial to both duck breast and calf's brains; these were cooked to perfection and separate enough on the plate to taste them individually, but well coordinated in flavor so that they married happily.
For a main course Mary ordered the veal, well done. The waiter didn't bat an eye. It arrived exactly the way she likes it – thoroughly cooked but still moist and springy in texture. My own choice, the Navarin of lamb, proved to be printanier; i.e. served with fresh spring vegetables cooked à point. The lamb, underneath its rich crust, held its shape but could have been eaten with a dull spoon.
Mary's only slight quibble was with her Honey and stem ginger ice cream, which could have been a bit more intensely flavored with ginger. I opted for the cheese board and was magically transported back to France. What lingers in my mind is a soft pyramid of chevre, with the texture of a loose fresh goat cheese but having a voluptuously ripe flavor. If I'd been alone, I would shamelessly have polished it off.
As the afternoon progressed, we noted the arrival of a succession of diners so corporeally well-endowed as to suggest that they might be regulars. Thank heavens we live on the other side of London, a slow and inconvenient journey away!
Chez Bruce is indeed "modern French", showing its roots but original, even surprising, without descending into vulgar eccentricity. Together with our other favorite, Racine, they now for

m a pair of |French restaurants in London to which we will happily return.
Chez Bruce 2 Bellevue Road, London SW17, Tel: 020 8672 0114
©2004 John Whiting
Return to LONDON INDEX
---