A Paris Food Chain
Au Pied du Fouet
Au Petit Tonneau
D'Chez Eux
Paris is so full of obscure but noteworthy eating places that one of its joys is following a chain of recommendations wherever it may lead. Charles Shere, who first sent me to l'Ecurie, had more recently sung the praises of Au Pied du Fouet, a place to go for a good simple lunch and good conversation. This would determine, in succession, my next five meals. One was an ordinary hotel breakfast and another will be reviewed separately, so this chapter will concern itself with the other three.
§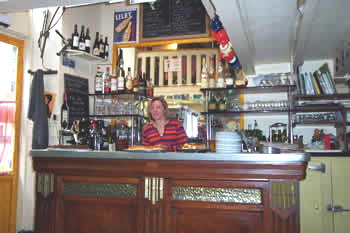 As soon as I entered Au Pied du Fouet, I spotted an original zinc bar, the sort the Germans had mostly melted down during World War II. I also saw evidence that this was an establishment which quietly made its own rules. On the wall was a meuble à serviettes, i.e., a wooden cabinet with numbered compartments which held the neatly rolled napkins of regular patrons, forty-seven in all. This was not a stage prop; shortly after I arrived a diner at an adjacent table was taken his napkin when he sat down. Polidor, which we've already visited, has a similar cabinet, but it is empty. This practice, Ellen Williams tells us in her interesting little book, The Historic Restaurants of Paris, was made illegal by a hygiene law of 1948. France's salvation has been its lax enforcement of stupid regulations. Among the framed prints on the walls was a page from an ancient catalog of buggy whip sockets. May God preserve the useless!
I always go for offal when it's offered, so my starter had to be gésiers confit en salade (duck gizzards with a salad of delicate mixed greens); then confit de joue de porc aux chevre frais (confit of pork cheek with fresh goat cheese and lentils). Strong honest flavors, with the complexity born of good fresh ingredients.
There was a distinguished woman at an adjacent table, who addressed our waitress in fluent French with just a touch of an American accent. Following what I had been told was the custom of the house, I struck up a conversation with her. She was both intelligent and entertaining, and on a sudden impulse I suggested that we have dinner that evening at an interesting restaurant I had planned to visit. "No ulterior motives," I added directly. "I'm a very happily married man and my wife is joining me in a couple of days. I would merely enjoy an evening's company." She accepted this at face value without a flicker of surprise or suspicion. "Why not?" she said easily. "My life has consisted of doing the unexpected." In due course I would discover that much of it had also been devoted to accomplishing the apparently impossible.
§
Later that evening, waiting at Le Petit Marguery, I received an apologetic phone call. My prospective dinner companion had an interview with the President of the Cité University which was going on longer than expected. Would I forgive her? Sensing that there was a story here, I asked when she would be leaving Paris. At ten-thirty the following morning. Was she free for breakfast? Yes indeed - we could meet at her hotel at eight.

The next morning, an hour's conversation over coffee and croissants revealed that I had indeed stumbled onto someone with a remarkable career which had culminated in her establishing a women's liberal arts college in Jeddah, with royal backing. Most of the women involved are
married and have the encouragement and support of their husbands. All this may well have been a by-product of Saudi-Arabia's royal internecine warfare; nevertheless the college is exactly what the Muslim world has need of and after a couple of years it appears to be thriving - check it out with a Google search.
Luncheon yesterday had caught my companion briefly in Paris on the way to retirement in the south of France. Jeddah, she assured me with evident relish, could not compete with her new home either in its scenery or its cuisine. After she's settled my wife and I must come and visit her. Yet another expatriate American off to southern Europe - will George Dubya have anyone of substance left to govern apart from his fellow pseudo-Texans and perhaps a few Afghans?
[2006: My friend emails me that she has forsaken her idyllic retirement in the south of France to set up a liberal arts college (faculty of arts and sciences) in Karachi. "God knows," she writes, "there certainly is enough need for better understanding between Moslem countries and westerners." In the continuing conflict between suicide bombers and homicidal maniacs, such level-headed non-sectarian bridge-builders are indispensible.]
§
ALTHOUGH she had missed Le Petit Marguery, my companion had been taken for dinner to a small nearby restaurant of considerable interest. I decided to go there for lunch. According to the sign in the window, Au Petit Tonneau's distinctive feature was its cuisine de femme. Bored by the preponderance of macho chefs on British TV, I always welcome the cooking of women, who laid the foundations upon which the sensational extravaganzas are ultimately based.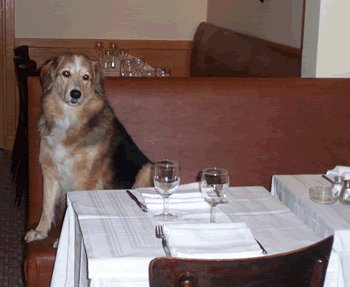 I arrived at opening time, and so I had the dining room to myself, with one eager exception. The owner's dog, Wattie, was waiting patiently, sitting on his haunches at his own table, his manners rather better than those of certain tourists. A friendly paw, but a bit short on conversation.
The talon d'Achille of French restaurants is the general absence of greenery except as decoration, and so I was glad to see salade au Roquefort on the luncheon menu. Blue cheese liberally sprinkled on lightly dressed lettuce was one of California's first symptoms of culinary enlightenment and I've never grown tired of it. The pavé de morou frais which followed had a curious nomenclature. A slab of fresh cod, obviously, but why this strange spelling, and of a word which applies to salt cod? Never mind; it was as fresh as it could be and fried - sorry, sautéed - to perfection: firm flavorful flakes which came apart easily and were springy between the teeth. And excellent pomme frites. Isn't it sad that we're only beginning to appreciate cod now that it's on the edge of extinction?
Towards the end of the meal the chef came out of the kitchen. It wasn't Ginette Boyer, the proprietor, but a new second-in-command who had recently joined the staff after cooking for thirty-seven years in Birmingham pubs. No wonder the fish n'chips were spot-on.
As I was tucking into my pub grub, an habitué arrived and sat down at what was evidently his usual place next to the zinc. We exchanged a few words and by the time we were both into coffee I had joined him at his table. He had a touching story. For seven years he had been head of the picture section in the Paris office of an international news agency but had just got the sack because his new boss didn't like him. His wife of many years, with whom he was obviously in love, had had a nervous breakdown and drifted into alcoholism; he had put her into an expensive American hospital to dry her out. She had been recently released as cured but wanted a trial separation. In the meantime he had been tentatively offered a job in Brighton and was about to go look into it. Maybe she would join him there. It was a sad tale of broken threads.

We had a cognac with our coffee, and then the waitress plopped an almost full bottle of wine on our table, left behind by a departing couple. An hour later my new-found drinking companion urged me to come back to his apartment to have a coffee and meet his wife. To my relief, he drove the short distance skilfully and cautiously and parked just outside one of my favorite Paris hotels, the Frémiet, in the elegant little avenue of the same name, a row of art nouveau masterpieces built in 1913 to the design of a single architect. My friend - for I must now so call him - had a large apartment on the first floor next door to the hotel. A splendid place. What would he find in Brighton to match it?
While we were drinking our coffee his wife came in. I wasn't prepared for her extraordinary beauty - slender, insubstantial, translucent as though softly lit from behind, with a gracious smile which nevertheless conveyed an ineffable sadness. It was a face which seemed to look hopelessly but with stoic acceptance into a gradually deteriorating future. I left as quickly as politeness would allow.
§
I had not yet made plans for that evening's dinner and my new friend was insistent that I book a table at D'Chez Eux. It was one of the best restaurants in town, he assured me - the most important people went there - Jacques Chirac, Helmut Kohl, Lionel Jospin and Jerry Lewis all had favorite tables. What could I say? The reservation was made forthwith.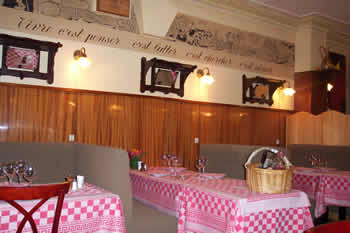 It turned out to be a jolly, over-the-top sort of place - one of the guide books suggests that it would be an ideal venue in which to entertain a football team. Fortunately they had not yet touched down; following my usual practice I had booked for opening time. Though a big restaurant, it's laid out with lots of small rooms, so that the crew of waiters can establish and maintain an easy familiarity with the punters who are on their patch. The tone was set early when a grinning waiter picked up a sausage and carved off a thick slab which he dropped casually onto my plate. It was a crude but tasty hunk of meat, and a foretaste of what was to come.
Not having the unlimited capacity of a professional restaurant reviewer, my twice-a-day regimen was beginning to take its toll, and so I passed up the groaning hors d'oeuvre trolley in favor of a mixed salad. This arrived piled up in a bowl from which I might have bathed, and with peeled tomatoes, surprising in such a hearty establishment. (I thought of Oscar Wilde's complaint, "I asked for a watercress sandwich - not a loaf of bread with a field in it!")
This was a restaurant specializing in the cuisine of the Southwest, so against my better judgement I decided once again to risk a cassoulet. A huge pot was brought to my serving table, full of just what I had feared - pale brown, with the consistency of thick soup, unbearably salty, with stringy confit and hard sticks of sausage. I didn't feel in the mood for a confrontation, and so struggled to eat enough not to be conspicuous. I particularly did not want to offend my waiter, for when I commented that there were very few half-bottles on the wine list and that I had wanted a Cahors or a Madiran to go with my cassoulet, he offered to split a modestly priced Cahors with me, taking the other half to drink later with his cheese. When the bill arrived I noted that he had fairly split the cost as well as the contents.
It became doubly clear that I had misordered when a huge platter of roast lamb arrived at the next table and was cut up into eight juicy pink ribs, four pairs, which all went onto one plate - it was an order, not for the whole party, but for a single eager glutton. He proceeded to do it justice - a mouse would have gone hungry on what he left behind. These guys played hardball.
Finally came a moment of exquisite torture as the desert trolley was wheeled over on protesting castors. Rather than asking what I wanted, my sadistic tempter piled whole serving dishes in a half-circle around me - a wicked chocolate mousse, rich gloppy vanilla ice cream, an instant coronary called "grandmother pudding", ripe mango, candied citrus peel, and stewed cherries. There were pies on the trolley's bottom shelf which, it was made clear to me, were at my disposal and remained where they were only because there was no more room on the table.
The bill for all this, plus coffee, came to 379ff - rather less than the restaurant's expensive reputation had led me to expect. Only the cassoulet, at 183ff, was excessively priced, and that because of its quality, not its quantity. The cornucopia of desserts was a steal at 48ff. I may go back some day and wrestle with the lamb, but only after I've been seriously in training.
2006: Menu prices are now 32,50€ and 38€ (lunch) and approximately 80€ a la carte. Pudlo continues to speak well of its quality and quantity, giving it a double knife/fork.
§
Au Pied du Fouet, 45 rue du Babylon, 7th, Tel: 01.47.05.12.27, Mº Sèvres-Babylon
Au Petit Tonneau, 20 rue Surcouf, 7th, Tel: 01.47.05.09.01, Mº La-Tour-Maubourg, Invalides
D'Chez Eux, 2 av de Lowendal, 7th, Tel: 01.47.05.52.55. Mº Ecole-Militaire

© 2002 John Whiting