2007 Caroll Sinclair has moved on to the Palais Royal, where she's running a very well spoken of Table d'Hote. I don't hesitate to give it a thumbs-up without yet having visited it.
---
Le Safran
Caroll Sinclair's bistro has the feel of a well-oiled machine in which both the virtues and the slight defects seem practiced. It's been twenty years since, in another location, she offered her first "surprise" menu based on the day's market offerings; this is still available as an alternative to the conventional a la carte selections. Everything on offer is "biologique", and this too was a feature well before it became fashionable.
The décor, as the name suggests, is a deep yellow, with corresponding table linen and primitive paintings on the wall which feature the same vibrant color.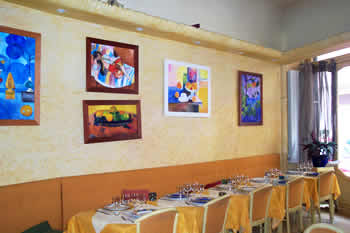 Her front-of-house salesman Tom, the mâitre d', set and maintained a tone of high jollity, chatting volubly with the diners and later leading a Happy Birthday chorus for a celebrating couple. As the evening progressed the conversational buzz was more that of a successful party than of a public dining room.

Tom is also an ardent salesman for the bistro's organic produce, prominently mentioned in the window. (There are organic wines in the modestly priced list.) I would like to think that it was the high proportion of health-minded diners who were responsible for the remarkably low smoke density, but this is probably wishful thinking - Tom said that the usual proportion of smokers to non-smokers is about half-and-half. At any rate, the young lady at the adjoining table didn't light up until the end of their meal, and only after asking permission.
I ordered a la carte and Mary opted for the "surprise", which turned out to be that we were served almost exactly the same courses. To start, there was a puréed seafood soup with safron (of course) and a trace of cumin. It was delicious and, since it contained a large proportion of shellfish, quite unlike the usual soupe de poissons.
Our main courses were also surprisingly similar, though with no complaint from either of us. My choice was that great classic, gigot de sept heurs. It was probably lamb rather than mutton, but it had cooked to a consistency that could be cut with a fork and still maintain its shape, not separating into fibres.
In Britain, mutton is now difficult to obtain except from Hallal butchers. Mary was once informed that most of the mutton supply went to "hospitals, schools, prisons and the military". Lucky institutions! At Simpson's in the Strand, saddle of mutton was once the glory of the carving trolly, but it has long since been replaced by the more conventional leg of lamb.
Seven-hour leg of mutton is one of the great meat dishes of France and was intended, like coq au vin, boeuf a la bourguignonne - and Lancashire hot pot - to take advantage of the intense flavor of tough old animals (with whom I feel a strong affinity). It was encountered at the Auberge de l'Atre Fleuri in the Massif de Chartreuse by Roy Andries de Groot, who included it in his romantic memoir, Recipes from the Auberge of the Flowering Hearth. Alice Waters loved the book and made a pilgrimage to its locale, though she realized that her experience would not replicate the author's. More recently, The New Yorker's Paris correspondent Adam Gopnik made a disasterous attempt to cook it for Alice and used his failure to wryly comic effect. There is much culinary and cultural history behind these dishes, greatly enriching their flavor.
Mary's "surprise" proved to be a piece of beef, slow-cooked for a mere four hours. The flavor of the two meats was so similar as to remind us that the identity of a dish can often be influenced more strongly by the method than by the material. In this case, the slow carbonizing and caramelizing were the dominant factors.
With both our meat dishes came a round potato cake so voluptuous as to make us ask Caroll her secret. She told us at the end of the meal that the potatoes were baked in their skins on a bed of salt, then crushed and combined with cream before being quickly sautéed.
Finally, for each of us there was a crème brulée which emitted a resounding thwack when struck with a spoon. (One served to us recently in London had never seen a flame.)
At the end of the evening Caroll came out of the kitchen, took off her fedora, shook out her blonde hair to its full glorious length, and sat down for a chat. I was reminded of the ditty by Dorothy Parker, another practising bohemian:

As I was letting down my hair
I met a man who didn't care.
He didn't care again today -
I love 'em when they get that way!

As if to make amends for the previous evening, our successive courses arrived on a slow boat from China. We sat down at eight; by the time we left it was nearing midnight. Tom explained apologetically that new staff were being trained, but he later hinted that the evening's leisurely schedule hadn't been unique. However, the dinner was worth lingering over. It was also a good opportunity for leisurely conversation; in our corner table for two by the window we were well away from the other diners and even at the height of the festivities we could talk without raising our voices.
My only other niggling criticism is that, if one can go by the enthusiastic entries in the guest book, the surprise menu seems to consist regularly of a few repeated dishes. Merely change the label to "specialty" and the objection disappears - many a bistro has survived for years by serving the same well-prepared dishes day after day. For that wonderful slow-cooked lamb and the potato cake I'd return again and again.
Le Safran, 29 rue d'Argenteuil, 1st Arr., tel 01.42.61.25.30

© 2002 John Whiting