Chez Maître Paul
CLOSED
Restaurants with the accoutrements of genteel dining which attempt to cram in two dinner sittings arouse my suspicions. Dropping in at Chez Maître Paul's modestly elegant premises to make a reservation, I was offered 7:30 or 9:30. Not wanting to be strong-armed out the door onto the street before I had properly finished my meal, I chose the latter.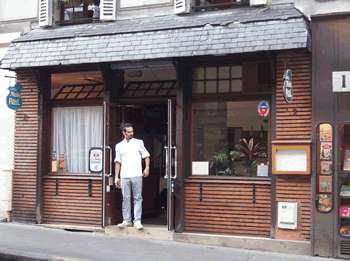 But I needn't have worried. Arriving promptly, I was shown immediately to a table. The young couple next to me, who proved to be Canadian, had not yet been served their desert. In fact, the restaurant was still almost full, but none of the waiters were "hovering". Over the next half hour, as I settled in, I was not aware either of haste or of delay; new arrivals were quickly and smoothly accommodated. Good vibes. I felt confident that I would enjoy the evening.
Eating so late, I was ravenous for simple hearty fare, which the cuisine of the Jura and Franche-Compté supplies in abundance. The menu at 198ff, including half a bottle of wine, offered just the ticket, including among its alternatives a shellfish entrée and a chicken main course. (Why do we Americans insist on calling the main course an entrée? According to Ford Naylor, writing in 1941, the usage was then confined to "the less expensive restaurants and lunchrooms." With an uncomprehending French waiter a hungry Yank could fill the evening with an infinity of gastronomic anticipation: "Cassoulet? Sure! Could I have that as an entrée?")
My first course was aumonière d'écrevisses au coulis de crustaces. This proved to be a "purse" containing carrot, celery, onion and crayfish, surrounded by a rich cream of shellfish sauce. My self-respect was preserved by an accompanying flat spoon, which saved me from the otherwise inevitable disgrace of licking the plate. (A Spoon with Every Course was the first title of Mirabel Osler's memorable journal of her gastronomic tour through France. When I invade French politics with my Parti Alimentaire this will be our rallying cry.)
Next came poulette fermiere a la crème gratinée, a splendid young free-range chicken in a cheese & mushroom cream sauce - not too rich and with a touch of lemon. A mixture of rice and wild rice soaked up the remaining sauce very nicely. According to Time Out, the wine which comes with the set menu is "indifferent at best", but I found the half-bottle of Bougueil pleasantly drinkable.
Finally, for desert, an excellent apricot tart which had not been overly sweetened to accommodate American taste. Sugar was brought separately; but the caramelized apricots on a crisp crust of pâte sucrée did not require it.

It was an altogether pleasant evening, with robust and excellent food served by a skilled and friendly troupe of waiters. I would happily return - alone, or with Mary for a romantic tête-à-tête, or with a good friend for amicable conversation.
Chez Maître Paul, 12 rue Monsieur-le-Prince, 6th Arrond. Tel:01.43.54.74.59. M° Odéon
© 2002 John Whiting
2006: Menus are now 29€ and 35€, carte 32€ to 40€. Not bad for four years plus a currency change. Reports continue favorable.