Le petit Marguery
A successful restaurant with a long history often has an air of fantasy – a touch of the Disneylands – resulting from the contrast between its time-honored identity and the punters who come to wallow in its atmosphere. The authentic patrons, if any, become part of the scenery. When I lunched in the huge Stiftskeller deep in the vaults of St. Peter's in Salzburg, purportedly founded by Benedictine monks in the 9th century, a nearby table was occupied by half a dozen wheezing burghers who might have waddled straight out of a Breugel painting. I was discreetly informed by the waiter that they had eaten there every day from time immemorial.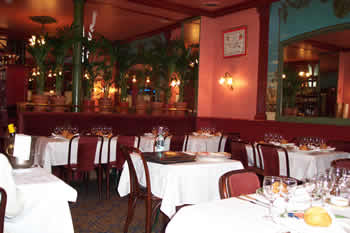 But les frères Cousin's Le petit Marguery was another story. The corps of waiters was a well-oiled machine, greeting newcomers with easy but not excessive familiarity. I was one of the first to arrive and so could watch the restaurant fill up with solid middle-aged Frenchmen and their elaborately decorated wives. Guide books? Superfluous. They had been coming here for years.
And no wonder. Although this is the last of a once flourishing chain, there are no signs of terminal decadence. Thirty years ago Waverley Root was commending them for offering Parisians such exotic Provençal specialties as soupe au pistou and tapenada. Today the surviving branch comes into its own during the game season. With every Frenchman who isn't actually bedridden out firing his blunderbuss at anything that moves, there's no shortage of raw material and the trophies are more likely to end up in the pot than on the wall.
Thus, showing up for dinner on a warm mid-October evening, I had no choice but to order the menu dégustation, special gibier at 450ff. It began luxuriously with four of their pâté and terrine specials: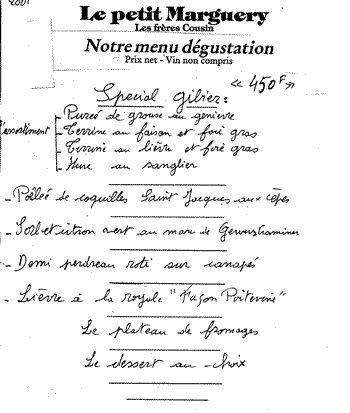 purée de grouse au genièvre, a creamy blend of grouse meat and juniper berries
terrine au faison [pheasant] et foie gras – how could it go wrong?
terrine au lièvre et foie gras, a divine foretaste of the royal hare to come later
hure au sanglier, head cheese of wild boar
Le petit Marguery is famous for its roasted scallops and also for its sautée of wild mushrooms. The next course included them both: poêlée de coquilles Saint-Jacques aux cèpes. Would I last through five more rounds? I retired to the corner for a going over by my trainer: sorbet citron vert au marc de Gewurtztraminer, a bracingly alcoholic lime sorbet that was like a slap across the face with a wet towel. Then back into the ring.
Next, demi perdreau roti sur canapés, half a small [thank heaven!] roast pheasant. What were the canapés? I can't remember. They certainly weren't vegetables – the nearest I came all evening to anything green was an occasional decorative wisp of curly lettuce, which I devoured like a starving vegan.
Finally, the pièce de résistance, to which I offered no resistance whatsoever: liévre à la royale "Façon Poitevine". It was a knockout. This is a variation on the classic bourgeoisie dish in which a wild hare is boned, stuffed with foie gras and truffles, and braised in red wine and brandy thickened with the hare's blood and liver. And all washed down with a half bottle of Saint-Joseph Grand Pompée. If there were anything to the ancient doctrine of likenesses, I would by now be an incredibly virile foodie.
I couldn't do justice to le plateau de fromage, contenting myself with a small wedge of fresh goat cheese. As for the dessert, I ate something unremembered in a trance and came to over a demitasse of strong coffee. In the end, it was no contest – like the social climbing heiress, I'd gone down for the count.
Le petit Marguery, 9 bd de Port-Royal, 13th Tel: 01.43.31.58.59 Mº Gobelins
©2002 John Whiting
2005: Now under new management, but good reports. Menus still in the 25-35€ range.
2009: John Talbott reviews it ecstatically — take this as Gospel!
August 2010 Included in John Talbott's The Perfect French_________(fill in the blank)