chacun à son goût
L'Avant Goût
As the name implies, L'Avant Goût set out to be at the forefront of Paris cuisine. It has lasted a decade; this year I decided to discover why.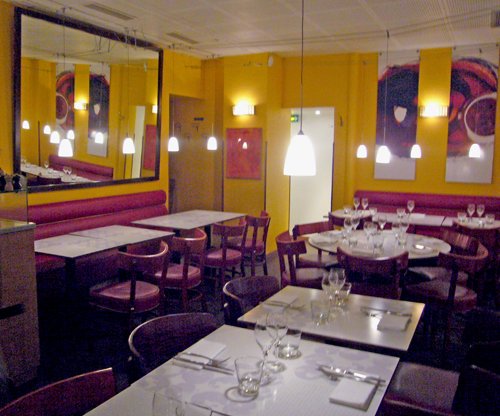 Our introduction was not encouraging. We arrived just before opening time to find several people outside and the door open. We entered to enquire and were very rudely told that they weren't open yet. After a few minutes we noticed that the sidewalk was empty, went inside and discovered that they were now open but that no one had bothered to tell us.
That, alas, set the pattern for the evening. Almost as soon as the menus arrived we were rather impatiently asked our choices. It felt like being served in a fast food joint.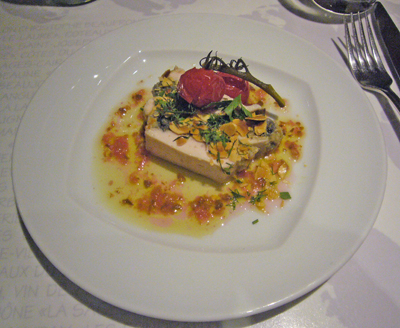 Mary decided on one of their self-designated classics, Pot-au-feu. This is traditionally such a generous dish that she did not ask for a starter. I was not so abstemious and ordered their intriguing terrine with chicken, snails and almonds. It was a winner!—an unusual blend of ingredients that produced a unique collective flavour. A very promising start.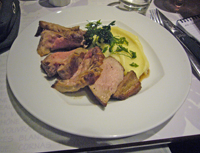 My main course, roast pork loin and mashed potatoes, was a generous portion of well-flavored, well-cooked (though rather fatty) meat. No other complaints, aside from the fact that the 6€ truffle supplement produced no discernible effect. In my experience that's par for the course. On truffle press trips to France and Italy, within hours of their disinterment, both aroma and flavor had dwindled to a shadow of their former glory.
Mary's pot-au-feu, alas, was an unsuccessful attempt to make new a dish which cannot be improved upon. As with similar classics from other countries (such as the New England Boiled Dinner), the point is to give a long slow simmer to tough but tasty cuts of meat which will impart their flavor to vegetables which also require a long cooking time. The skill lies in adding the latter at successive stages so that every ingredient has reached perfection at the same moment.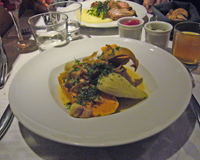 As soon as Mary's dish arrived at the table, it was apparent that the meat was scrappy and the vegetables rock hard. We made two mistakes: first, we should have looked more carefully at the menu, which listed the ingredients as an unlikely mixture of pork, fennel and sweet potato; and second, we should have sent it back to the kitchen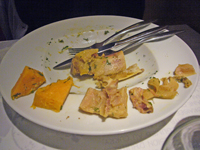 as soon as we saw what had been done to them. Virtually raw root vegetables are not only unpalatable but unchewable, and the meat in a pot-au-feu should not consist mostly of gristle, fat, skin and bone. When Mary had finished, the evidence was so glaringly obvious that I photographed the inedible remainder.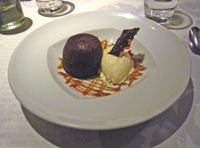 From here it could only go up. Mary's hot chocolate cake with a soft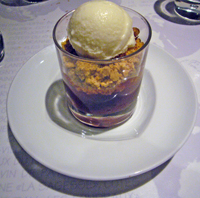 center, one of the day's specials on the slate, was so delicious that my small sample almost made me forget what had gone before. But the vanilla ice cream that accompanied it was weak-flavored and watery. My own red plum crumble was richly satisfying, but the white cheese sorbet that accompanied it was also watery.
I haven't mentioned the wine. Breaking with my policy for this trip, I had a glass of the house red with my pork. A small 10cl portion cost 4.50€. It was pale and nondescript.
-0-
So what has kept L'Avant Goût going for ten years? On a Wednesday night it was packed out with regulars, not tourists, and there were friendly conversations between the diners and the waiters. One factor may be the cost. At 33€ for three courses, it's one of the more reasonably priced of the fashionable modern Paris bistros, and lunch is only 14,50€.
Is it perhaps popular with Japanese tourists? One of their self-professed "classiques" is Pot-au-feu «retour de Tokyo», served with a vegetable tempura. (The mind boggles! How about Cassoulet «retour de Vietnam»: pork and bean soup with noodles? ) But this was a roomful of happy natives. I can only assume that at least some Parisian palates have been corrupted by too many mass-produced pizzas, burgers and kebabs.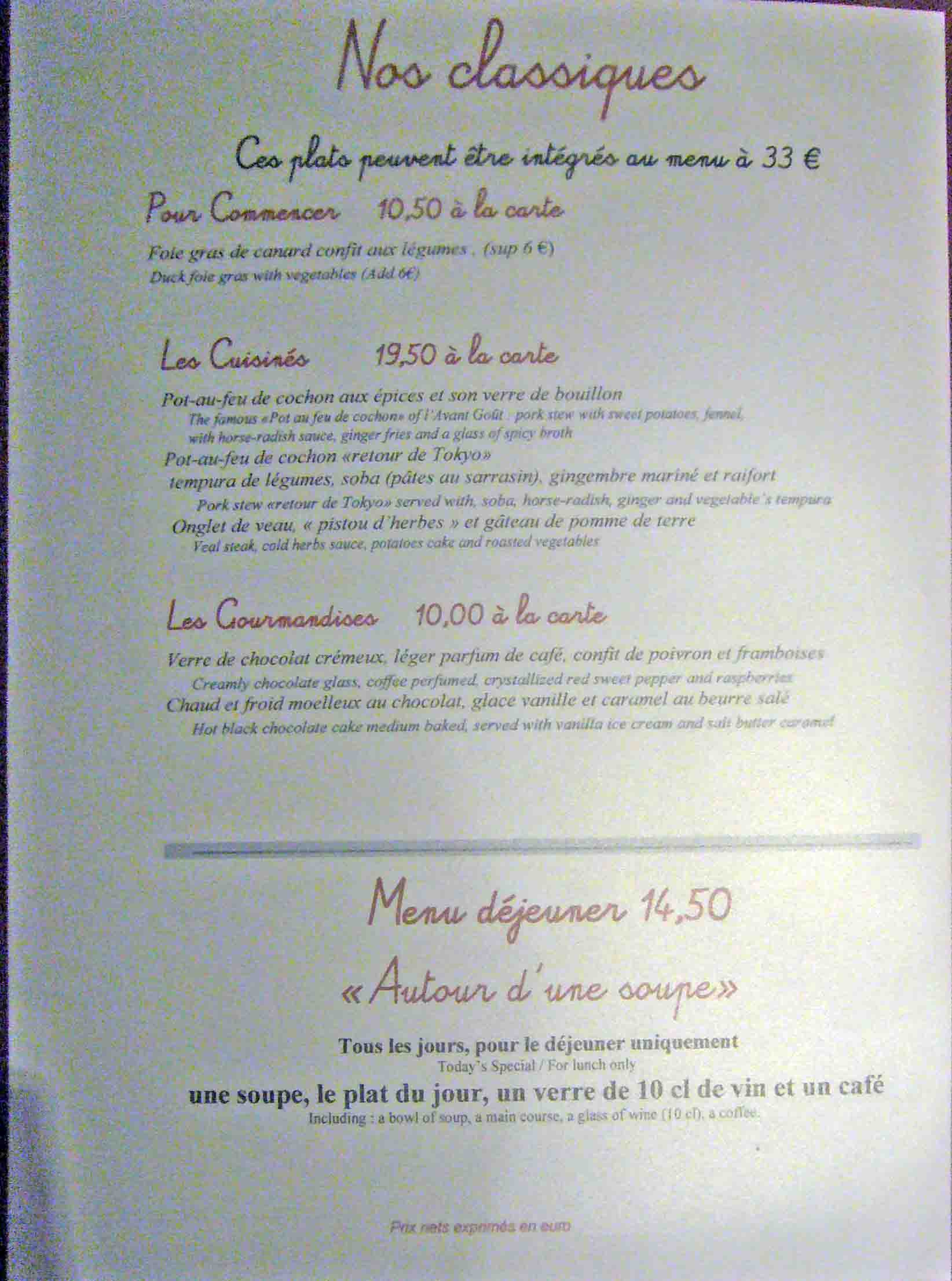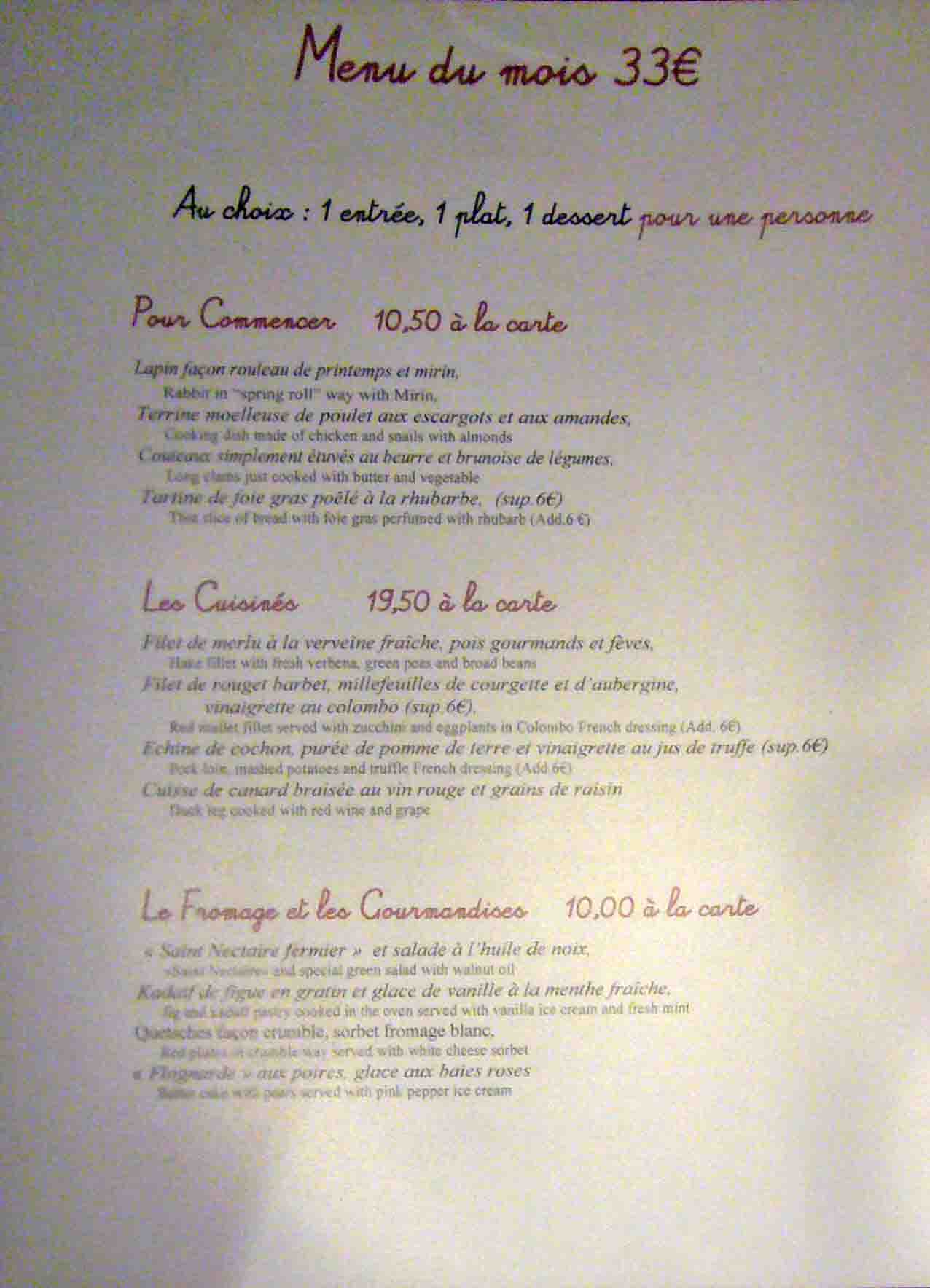 ©2013 John Whiting
---
L'Avant Goût 26 rue Bobillot, 13 Arr, 01 53 80 24 00, Mº Place d'Italie