Chez Jim
Would you like to join a Paris dining club, sans membership fee, that meets every Sunday? It's an institution that has flourished for three decades where you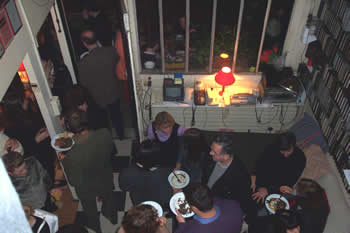 can mix ad lib with a distinguished company of regulars and visiting celebrities while tucking into unlimited quantities of decent grub and drinkable wine. In summer it's an outdoor party held in a picturesque private street that has been home to Henry Miller, Salvador Dali, Juliette Greco and Francoise Sagan, and it's only a phone call away. Dial Paris 01.43.27.17.67, ask for Jim and make your reservation. Groucho was wrong – this is one club worth joining that would have you as a member!
As usual there's a catch. Such a ludicrously uncommercial institution is unlikely to outlive its founder. It was dreamt up and perpetuated by a living anachronism, an artist-promoter with the mindset of an archetypal hippie but minus the sartorial paraphernalia. Jim Haynes' eccentricity has flourished, not in his public image, but inside his head, where it has produced a series of unique institutions which in turn have spawned a succession of fruitful traditions. Starting with the Paperback bookstore and the Traverse Theatre in Edinburgh, he has been a cultural Johnny Appleseed, an American expatriate scattering his brainchildren across Europe's fertile ground. His next project is a Paris Arts Club with its own performance and dining facilities. Want to be a founder member? Give Jim a call.
Jim could have been a great politician. Instead, much more importantly, on Sunday nights he's a great mâitre d'. Ensconced on a stool (enstooled on a sconce?) in the kitchen, he greets everyone by name as they arrive and introduces them unhesitatingly to everyone in the immediate circle. Expect to meet at least one stranger you'll want to stay in touch with – when I first went for dinner several years ago I met a TV producer from San Francisco who put me in touch with people who were helpful to a project of mine when I went over a couple of months later.
The food is better than one has any right to expect from such a laid-back operation. There seems to be a flexible core of cooks who regularly produce decent peasant stews in huge pots. One evening last summer a couple of big bowls of pâté and a terrine had been bought in; they weren't cheap rubbish, but were well up to good deli standard. As usual, OK wine, beer and soft drinks. And there were two homemade desserts and decent coffee. All this for a price competitive with Paris bistros. With volunteer labor, there's a modest profit, which goes to charity.
Instructions on how to reserve and how to get there are on his web site (below). When I'm in Paris, Sunday nights are reserved for dinner Chez Jim. See you there.
Jim Haynes, 14th Tel: 01.43.27.17.67
©2002 John Whiting
2007: And now it's spawned a cookbook: Mary Bartlett's Throw a Great Party .